3 fois par jour – Desserts: le casse-tête sucré de Marilou | Sophie Ouimet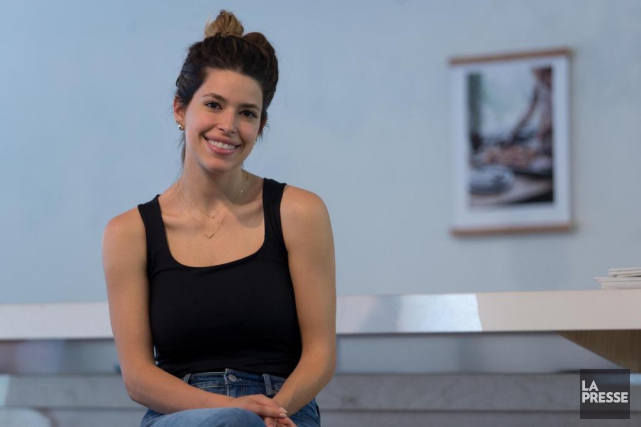 Ça fait déjà deux ans que Marilou et Alexandre Champagne travaillent sur leur livre de desserts. Si le sujet semble léger, il n'en requiert pas moins une organisation sans faille pour aboutir à un résultat aussi varié qu'alléchant : gâteau panais et pacanes, brownie au chocolat et aux guimauves, barres sans cuisson à la lime et à la noix de coco…
« C'est un processus vraiment long, il ne faut pas penser que ça se fait en quatre secondes. Pendant au moins six mois, c'était moi et mon tableau Excel, comme un genre de puzzle », résume Marilou en entrevue téléphonique.
Assise à son bureau, elle a pris le temps d'établir les chapitres – les tartes, les gâteaux, les desserts à manger à la cuiller… -, avant de trouver une dizaine d'idées par catégorie. Un travail de moine, mais qui s'est avéré nécessaire, comme elle l'a appris parfois à la dure dans l'élaboration des deux tomes précédents, qui se sont d'ailleurs vendus à plus de 300 000 exemplaires.
Le fruit de l'expérience
« J'ai gaspillé beaucoup d'argent, d'ingrédients et de temps en me lançant en cuisine avant d'être structurée », constate Marilou. Hors de question de répéter ces petites erreurs dans ce troisième tome, qui s'est construit sur l'expérience accumulée par Alexandre et elle, ainsi que le reste de l'équipe de 3 fois par jour. Elle promet d'ailleurs que s'il y a un quatrième tome, ce sera encore mieux.
Avec leur équipe, ils ont aussi pris le temps de tester les recettes plusieurs fois pour s'assurer de leur faisabilité.
« J'en suis fière, parce que les recettes, on les a travaillées et retravaillées, et elles marchent. »
– Marilou
« Aussi, c'est le genre de desserts qui fonctionnent même si ton enfant échappe une poignée de farine sur le comptoir pendant la préparation », poursuit la jeune maman, qui attend bientôt l'arrivée de son deuxième enfant.
Résultat : ce troisième tome est son favori d'entre tous ! « C'est vraiment mon préféré, et de loin, s'enthousiasme-t-elle. C'est sûr qu'il y a une homogénéité parce que ce sont juste des desserts, donc on ne passe pas d'un fish and chips à une sauce à spag, par exemple. »
Accessibilité
En publiant un livre uniquement axé sur les plats sucrés, son but était aussi de rendre la préparation des desserts accessible aux gens, qui ont souvent peur de rater leur coup. « C'est vraiment la chose que j'entends le plus souvent les gens dire : « Je rate tout le temps mes desserts, donc je n'en fais plus », ou « je préfère les acheter »… Je voulais aussi beaucoup parler de déculpabilisation, parce que les gens culpabilisent tellement quand ils mangent des desserts. »
En somme, elle voulait montrer que cuisiner des desserts, c'est simple. Et que de les déguster, ce l'est encore plus !
3 fois par jour – Desserts, de Marilou et Alexandre Champagne. Les Éditions Cardinal. 288 pages. 34,95 $
En librairie mercredi
Give a Bon Appétit Gift Box, Become a Holiday Hero
Here's a little unsolicited holiday advice from the Bon Appétit team to you: People care a lot about what you get them each holiday season. Sure, we all know that it's the "thought that counts" and as long as your heart is "in the right place," everything will work out fine. But really, that scratchy sweater your great aunt gave you? We didn't think so. Instead, give Bon Appétit's brand spankin' new gift box and be the holiday hero your family and friends deserve.
People want gifts that keep on giving, and this one does—all the time. The box comes with a one-year subscription to Bon Appétit. We're talking print AND digital, plus a bonus issue in the box, which means your cherished recipient never has to worry about missing out on the coolest new restaurants, the hottest trends, and the best new recipes BA has to offer.
The bundle also boasts a signature "Don't Worry, Eat Happy" tote, a reusable Stasher silicone storage bag (popularized by a little ol' tv show called Shark Tank!), and a stash of BA editors' favorite cookie recipes. We've even gone the extra mile and included a cookie scoop and two Skor bars, aka the closest thing to a perfect pre-made English toffee you'll find. This way, your recipient can get right to making our new Spiced Snickerdoodle Crunch Cookies and you can get right to eating them.
Who could say no to all of these goodies getting delivered to your door? Take our advice this holiday season and give the gifts people will truly want. And who knows, you might just end up with a few sweet treats for yourself.
What are you waiting for? Get gifting!
The Minimalist Brussels Sprouts Thanksgiving Side with Maximalist Results
The quick-sautéed Brussels sprouts with walnuts that my family serves as a Thanksgiving side dish every year would surely not exist without support from the wonderful world of pro football. During the days leading up to the holiday, my dad, Frank Lalli, stations himself in front of the kitchen TV, paring knife in hand and pints of Brussels sprouts arranged around him, to begin what is known in my family as "The Brussels Prep."
This painstaking process involves coring each tiny little cabbage and then separating the leaves so that they can be stir-fried over high heat in the minutes leading up to the Thanksgiving meal. Before that can happen, every leaf must be liberated from the rest, and it has to be done right. This drudgery is supposedly alleviated by a good college game, or at least that's the theory. If Frank gets lazy or impatient and starts pulling the leaves off in clumps, or with pieces of the root attached, he will incur the loving wrath of one of the Lalli sisters (that would be me and my sister, Nina). We like our leaves fluffy. Because this laborious prep can be done days in advance, there's at least some amount of balance to the whole affair. Yes, it's a lot of vegetable butchery. But! It's easy. And! You can do it on the Monday before T-Day. Plus! The dish itself takes minutes to prepare.
I can't remember when the Brussels first made an appearance on the menu. They've never not been there. Memories of all the years of making them have blurred together, a slo-mo flashback montage of Thanksgivings that took place in the kitchen of the house I grew up in, and the one my parents have lived in for the past 20 years, along with the cast-iron skillets that have been residents of both. The only thing that's changed is the addition of some lemon zest and some lemon juice—a modern intervention on the classic presentation, and a move we might debate this year.
No matter how many pints Frank works his way through, there's always just enough Brussels to go around the table once, bright green and crisp-tender, perfectly blistered and charred spots. Their preciousness—alongside an abundance of every other dish on the table—makes us covet them even more.
Get the recipe:
Chile-Glazed Shallots Are an Ideal Vegetarian Thanksgiving Side
For a reason I'm still not totally sure of, I decided to host 20 of my closest friends at my apartment for Friendsgiving.
And cook everything myself.
Being the oldest child, being a stubborn taurus, and working at a food magazine all probably had something to do with it. Not only did I have four dishes to cook, but three vegetarians to please, a VERY tiny oven to manage, and no dishwasher to speak of. So when I saw Molly Baz's new recipe for glazed shallots with chile and thyme, I knew I had to make these sweet and saucy, extremely hands-off, and totally make-ahead-able flavor bombs.
The awesome thing about this recipe is that the shallots get all glazy and wonderful by spending A LOT of time in the oven. Which meant while they were doing their thing, I could chop celery and crush almonds for Josh McFadden's celery salad, and wash all of the inevitable dishes piling up in my sink. (Again, no dishwasher.)
To begin, I peeled enough shallots for a sprint to the bathroom for a quick cry sesh. (It wouldn't be Thanksgiving without one, TBH.) Then, I added butter to a skillet* (*Dutch oven because I didn't have a free skillet with everything else cluttered on the stove) and let the shallots bathe in butter until they browned a bit. I added a few sprigs of thyme, red wine vinegar, water, sugar, and pepper. My local grocery store didn't have red chiles, so I frantically texted Molly Baz (the benefits of working at said food magazine above) about what to replace them with: fresh jalapeño or dried serrano (since that's what I had in my house). "Fresh jal! Or use dried red pepper flake," she quickly responded. TYSM Moll, TYSM. I ended up using 2 tbsp of red pepper flakes, which was way too much and made the dish REAL spicy. Word of advice: use more like…1 tablespoon! But again, the magic of being able to control this dish is also controlling the spice level.
Then you pop that warm shallot kiddie pool into the oven for about 45 minutes. After the liquid reduced to a sticky glaze and the shallots got all tender and soft, I took them out and transferred them to a glass baking dish. I did this because I needed my Dutch oven to cook in, and because I knew I could gently reheat the shallots in the oven in the baking dish, and then serve them right from there. I know, I'm literally a genius. I also may or may not have had a note on my phone that broke down my cooking times, as well as cooking vessels minute by minute. I looked like this:
Anyways, these were a breeze to make, didn't dirty an insane amount of dishes, and accommodated my veg pals. I plan on making them on days that aren't just Thanksgiving, and will probably assign them to a friend to make next year, when we do Friendsgiving potluck style instead.
Get the Recipe: