Situation stabilized at Saint John oil refinery following explosion, fire
Eight hours after an explosion and fire at the Irving Oil refinery in Saint John shook the city and sent several contractors to hospital with non-life threatening injuries, the situation has been stabilized, Emergency Measures Organization officials say.
But flare-ups are still possible, as part of the normal stabilization process, the organization posted on Twitter shortly after 7 p.m. AT.
« Crews are on site and monitoring, » it said.
Area residents are no longer being urged to remain in their homes. The New Brunswick Department of Environment and Department of Health are monitoring air quality around the east-side refinery and « have not identified any concerns to public health, » said EMO.
The Saint John Fire Department has begun releasing some of its crews and equipment from the site and all streets have reopened to traffic.
Irving Oil refinery explosion captured on video by Sierra Sisk. <a href= »https://t.co/Z2YtbxAfJz »>pic.twitter.com/Z2YtbxAfJz</a>

&mdash;@CaveRachel
A  malfunction in a diesel-treating unit is believed to be the source of the « bed-shaking » blast that sent flames shooting an estimated 30 metres high and saw a plume of black smoke cover most of the city's east side shortly after 10 a.m.
The unit, which removes sulphur from diesel, has been isolated and the rest of the refinery has been shut down « out of an abundance of caution, » said Irving Oil's chief refining and supply officer Kevin Scott.
The Irving Oil facility is the largest refinery in Canada. It employs about 1,400 people and is capable of producing more than 320,000 barrels per day.
Although it's Thanksgiving Monday, close to 3,000 people were working onsite due to a regularly scheduled maintenance project. About 100 were the normal operations crew, while the rest were tradespeople working on the turnaround project, officials said.
« The fact no one was hurt seriously or killed during this incident is something to be very thankful for, » said Saint John Mayor Don Darling.
'I thought I was dead for sure'
Jonathan Wright, an electronic technician from Florida who was working inside the refinery during the fiery explosion, said he thought he was going die.
« We got blasted to the ground. Everything blew up and I didn't know what to do, » he said. « You couldn`t see nothing but flame. »
Contractor Jonathan Wright, who escaped the refinery fire, said he heard a high pitch hiss for three or four seconds before the explosion. (CBC)
Wright knew he had to get out, but the heat from the fire kept him from the stairway down and he says there were no ladders.
« Basically I was swinging through scaffold poles and walking across pipes and everything to get out of there, it was terrible. I didn't want to get burned. »
He hurt his hand, elbow and foot, but considers himself lucky. « I thought I was dead for sure, like guaranteed dead. »
After the blast at the Saint John oil refinery Monday morning, police were warning residents to stay clear of the area. (Photo: Submitted)
Irving Oil is working with WorkSafeNB, the Department of Environment and EMO officials to « understand what happened » and determine next steps, said Scott.
It's too soon to say how long the shutdown will continue, but the company hopes to avoid any interruptions to service, he said.
« We're working through all of our contingency plans in terms of supply. Of course we have finished product in tankage at the refinery and then further out in the system in marine terminals and you know relationships with other suppliers as well that we will draw on to minimize the impact on any of our customers — in Canada or the U.S. »
The following streets are closed: Loch Lomond at Commerce, Grandview at Champlain, Grandview at Bayside, and Loch Lomond at Macdonald.

—@saintjohnpolice
Saint John police responded to the refinery at 10:16 a.m., and were asking people to avoid the area as curious onlookers lined the streets, hoping to catch a glimpse of what was going on.
Several streets were closed but no evacuations were ordered.
After the explosion was reported, the Saint John Regional Hospital went into « code orange, » meaning it was prepared for a possible influx of patients. 
« We can confirm we have now treated five people with injuries from the refinery explosion at Horizon's Saint John Regional Hospital and all five have been discharged., » New Brunswick's Horizon Health Network said on Twitter shortly after 3 p.m.
EMO was reporting four people were treated in hospital for « minor injuries. »
Irving Oil posted on Twitter around 2 p.m. that several contractors were being treated for non-life threatening injuries.
« We now understand that all employees and contractors working on site have been safely accounted for, » the tweet said.
« As this is an active situation, we will be sharing more information as it becomes available. »
No other updates have been posted.
Residents react to explosion
Shaun Watson, who lives on the east side of Saint John, says he felt shaken up by the explosion and fire. (CBC)
Darling said on Twitter early after reports of the explosion emerged: « This is obviously a live event … when we know more, you'll know more. Praying for the safety of all involved. »
Premier Brian Gallant tweeted he has reached out to the mayor.
Gallant said the New Brunswick Emergency Measures Organization was engaging with the city and Irving Oil officials to assess the situation.
« On behalf of all New Brunswickers, our thoughts are with the workers affected and with the community of Saint John, » Gallant said.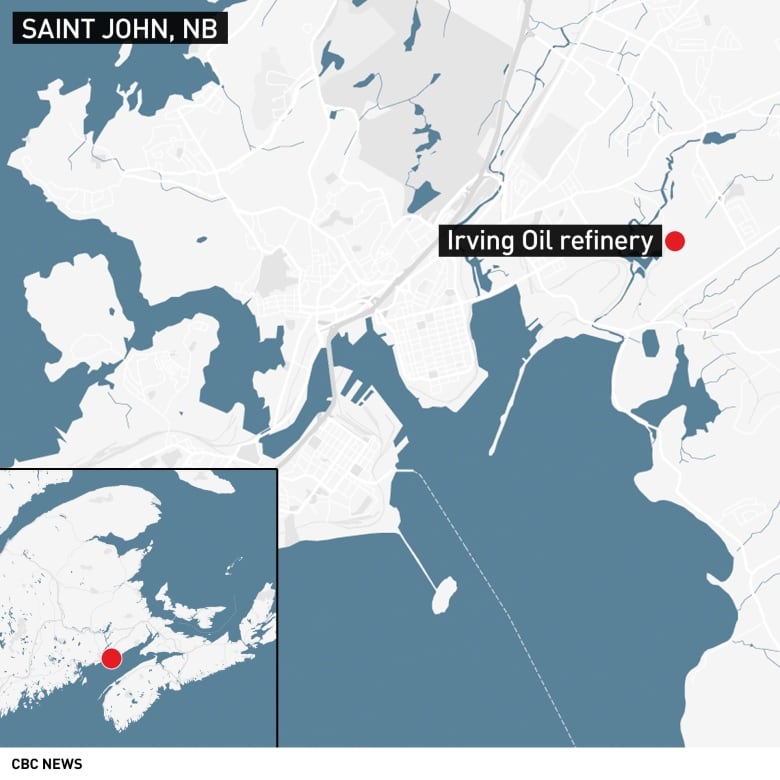 The oil refinery in Saint John. (CBC)
Bob McVicar, who lives in the area of the explosion, posted on Facebook that it felt like a « bed-shaking explosion. »
Area resident Shaun Watson was in his house when he heard a boom.
« The whole house shook, » he said.
Residents across the city also reported on social media that they felt the effects. 
Not the first explosion
Mark Melanson and Jocelyn Legassie were sitting at the Tim Hortons on Hickey Road, about three kilometres away from the refinery, when they heard a popping sound.
They looked outside the window and saw black smoke and flames exceeding the height of the stacks at the refinery.
Officials have said they believe a malfunction in the diesel-treating unit caused the fiery explosion. (Photo: CBC)
Melanson said he has seen explosions like this on YouTube at oil refineries around the world, but never seen anything like this in Saint John.
Legassie agreed, saying: « I've lived in Saint John for 30 years and this is the first time I've seen something like this happen here. »
Very serious fire currently underway at the Irving Oil Refinery. <a href= »https://t.co/te8X4Xl6Tw »>pic.twitter.com/te8X4Xl6Tw</a>

&mdash;@thewrightpage
There was another explosion at the oil refinery in 1998, when flames and a huge cloud of black smoke hung over the facility.
Rob Beebe felt Monday's explosion from his apartment on Martha Avenue, a few streets over from the refinery.
« We felt the entire building move as if it wobbled. »
When he walked outside, he noticed black smoke coming from the refinery, so he hopped into the car, drove down the corner and saw fire about 30 metres high.
These US entities partnered with the Wuhan Institute of Virology — time for a criminal investigation?
(Natural News) The Wuhan Institute of Virology from which the Wuhan coronavirus (COVID-19) is believed to have "escaped" has a number of questionable partnerships that are worth looking into in light of the pandemic.
Most of them are universities, including the University of Alabama, the University of North Texas, and Harvard University. There is also the EcoHealth Alliance, the National Institutes of Health (NIH), and the National Wildlife Federation.
While the relationships between these entities and the Wuhan Institute of Virology may be completely innocent, there is no way to really say for sure without a proper investigation. And this is exactly what Secretary of State Mike Pompeo is calling for, as is the nation of Australia.
Pompeo and the folks down under, along with millions of Americans, would really like to know the true origins of the Wuhan coronavirus (COVID-19). An increasing number of people simply are not buying the narrative that the novel virus originated in bat soup at a Chinese wet market, and this even includes mainstream media outlets like Fox News.
The only way to really determine what was going on at the Wuhan Institute of Virology, and who else might have been involved. is to open the place up for an international investigation. But communist China is against this, of course, accusing Australia of "petty tricks" and collusion with the United States.
"Overnight, I saw comments from the Chinese Foreign Ministry talking about a course of activity with respect to Australia who had the temerity to ask for investigation," Pompeo is quoted as saying in response to China's aggression against a proposed investigation.
"Who in the world wouldn't want an investigation of how this happened to the world?" he added.
As the U.S. aims to get back on track economically speaking, Pompeo believes that now is the time to hold communist China, the Wuhan Institute of Virology, and whoever else may have been involved accountable for unleashing this pandemic on the world.
"Not only American wealth, but the global economy's devastation as a result of this virus," Pompeo further stated. "There will be a time for this. We will get that timing right."
New U.S. analysis finds that lab in Wuhan, China was "most likely" origin of coronavirus release
(Natural News) While American Leftists and most of the Democrat Party continue to serve as apologists for the Chinese Communist regime over its role in creating and then perpetuating the coronavirus pandemic, a new U.S. government analysis concludes that COVID-19 "most likely" escaped from a lab near Wuhan city.
The Washington Times reports that the analysis cataloged evidence linking the outbreak to the Wuhan lab and has found that other explanations for the origins of the virus are not as credible.
The paper reported:
The document, compiled from open sources and not a finished product, says there is no smoking gun to blame the virus on either the Wuhan Institute of Virology or the Wuhan branch of the Chinese Center for Disease Control and Prevention, both located in the city where the first outbreaks were reported.
However, "there is circumstantial evidence to suggest such may be the case," the paper says.
"All other possible places of the virus' origin have been proven to be highly unlikely," said the report, a copy of which was obtained by the Times.
ChiCom officials have claimed that the virus' origin is unknown. However, Beijing initially stated that coronavirus came from animals at a "wet market" in Wuhan where exotic meats are butchered and sold in disgusting conditions.
Chinese officials claim that COVID-19 went from bats to animals sold in the market last year, then infected humans.
U.S. intelligence officials have increasingly dismissed that explanation, however, as attention has begun to focus on evidence suggesting that Chinese medical researchers were working with coronavirus in the country's only Level 4 facility, which is in Wuhan.
U.S. Army Gen. Mark A. Milley, chairman of the Joint Chiefs of Staff, has said that intelligence agencies are investigating whether the virus escaped from a lab or was the result of a naturally occurring outbreak, but that analysts have ruled out reports that COVID-19 was manmade.
'The most logical place to investigate the virus origin has been completely sealed off'
"At this point, it's inconclusive, although the weight of evidence seems to indicate natural," the general said on April 14, "but we don't know for certain."
The analysis said that the wet market explanation does not ring true because the first human diagnosis of coronavirus was made in someone who had no connection to the wet market in question. And according to Chinese reports, no bats were sold at that particular market.
At the same time, several questionable actions and a growing paper trail provide clues that the virus actually escaped from a lab, even as China begins to clamp down on those information streams.
The biggest media lies about the coronavirus: Origins, treatments and vaccines
(Natural News) If there is one thing that most everyone can agree on concerning the Wuhan coronavirus (COVID-19) pandemic, it is the fact that there is no shortage of conflicting information out there about the nature of it. And the mainstream media is certainly doing its part to steer the narrative as part of a larger agenda, using plenty of misinformation along the way.
The following are among the most commonly parroted lies about the Wuhan coronavirus (COVID-19) that aim to distort the facts and deceive you into believing falsehoods about this pandemic:
Media LIE: The virus is not man-made
From the very beginning of this thing, the official narrative was that the Wuhan coronavirus (COVID-19) came from a Chinese wet market where bats and other "exotic" animals are sold as meat. But the world later learned that it actually more than likely "escaped" from the Wuhan Institute of Virology.
The mainstream media and social media platforms went nuts trying to censor this information and even called it  "fake news." But eventually it became undeniable that bat soup was not responsible for spreading the Wuhan coronavirus (COVID-19) around Wuhan and eventually to the rest of the world – hence why we continue to call it the Wuhan coronavirus rather than just COVID-19.
We have even seen attempts by the media machine at making the Wuhan coronavirus (COVID-19) a racial issue because there are supposedly more "people of color" coming down with it than people with fair skin, which further detracts attention away from the source of this virus.
Media LIE: Hydroxychloroquine is extremely dangerous and doesn't work
The minute that President Donald Trump announced that hydroxychloroquine may be an effective, and very inexpensive, remedy for the Wuhan coronavirus (COVID-19), the mainstream media immediately began decrying this claim as fake news, even though Anthony Fauci himself praised hydroxychloroquine back in 2013 under Barack Obama as being some type of "miracle cure" for SARS (severe acute respiratory syndrome).
There have even been studies conducted that were designed to intentionally smear the drug as both ineffective and dangerous, though one in particular purposely left out zinc, which appears to be a critical co-factor in supporting the effectiveness of hydroxychloroquine – in other words, politics as usual.
Media LIE: Only a vaccine can save us from coronavirus
Many politicians and public health officials are parroting the lie that the only way America can come out of lockdown and go back to "normal" is to get vaccinated with some future vaccine for the Wuhan coronavirus (COVID-19) that does not even yet exist. A vaccine, we are repeatedly told, is the only thing, or perhaps some new "blockbuster" antiviral drug, that can cure the world of this scourge and make everything happy and wonderful once again.
Meanwhile, not a peep is being made about things like intravenous (IV) high-dose vitamin C, which is being successfully used in other countries to stem the tide of infections without the need for new drugs and vaccines.
By omission, nutrition is pointless
Speaking of natural approaches to overcoming the Wuhan coronavirus (COVID-19) that are being systematically ignored by the mainstream media and most in politics, have you heard anyone mention the importance of nutrition in all of this? We did not think so, and this is intentional.
Regular readers of this site over the years should know by now that the single-most important thing you need to do to stay healthy besides exercising regularly is to feed your body the nutrition it needs to naturally ward off illnesses, including those associated with the Wuhan coronavirus (COVID-19).
Research compiled by the Lewin Group reveals that nutritional remedies such as calcium, vitamin D, folate, omega-3 fatty acids, lutein, zeaxanthin, and more all play a critical role in fortifying the immune system, which, if properly nourished, should have little problem fending off disease.