This Arancini Recipe Is the Weekend Cooking Project You've Been Looking for
One of the greatest things to arrive before your eyes, served on a roaming platter in a room of laughing, polite people, is a crispy, round orb of arancini. Those ping pong balls of fried risotto save you from pre-dinner hunger pangs, or more likely from open bar–empty stomach mistakes. See it, grab it, pop it. Arancini, I just wrote a commercial for you.
Rather than deprive yourself of this joy the 360 days of the year you're not at a holiday party, why not make them at home and crack into the open bar under your TV? Great idea!
For this recipe, Molly Baz had a vision: Huge molten arancini that spilled out cheesy risotto onto the plate like lava cakes—a vision we shot down. "Arancini are party food, you can't have that," scolded Andy Baraghani, who we never thought would have so many arancini takes. "Andy can't crush my dreams," Molly told me, so she'll save that recipe for another occasion. Still, these arancini are stuffed with sugar cube–sized pieces of mozzarella, so that even when you bite into one, there's an oozy cheese pull to ooh and aahh over. As one does. The rest is about making risotto, chilling risotto, rolling risotto snowmen, and frying risotto. It's a labor of love, but aren't the best things in life? But
let's briefly look at each step at a time so you can see how attainable this is outside of a catering kitchen.
Making risotto
The risotto part keeps it simple—no peas here—with onions, garlic, salty Parm, white wine, plenty of black pepper, lemon zest, and some heavy cream. Add stock, stir stir stir, the usual risotto bag of tricks. It's done when it's "toothsome," which is one of Molly's favorite words and which I never hear anyone else say, ever. But she means al dente, not mushy.
Chill the risotto
Then you spread the risotto out on a baking sheet to chill for an hour or four in the fridge. This will make it roll-able.
Roll the risotto snowmen
Things get messy! Using a ¼ cup measuring cup will help you make consistent balls. You can do this with your bare hands or wear gloves, but you shape each ball into a sort of disc first, add two squares of mozzarella, and then shape the rice around it, rolling it into a snowman head. Freeze 'em for a few minutes so they can firm up.
Fry the risotto
Molly tested a few different crispy coating options. She ended with Panko and a traditional egg + flour dredge because other options (cornstarch slurry, regular breadcrumbs) didn't fry as evenly, or with as good of a crunch. You need a good crunch to contrast with the gooey filling, so this was an important detail.
The biggest possible mistake you can make when frying the arancini is taking them out too early because you're impatient and want to get this party started already. They'll take 6-8 minutes and need to be DEEPLY golden brown. TEST one out of the oil by cutting into it to see that the mozz has melted. (This is your spider's time to shine!) Then take the others out. Then go mingle with your laughing, polite dinner guests, who'll be talking about those arancini for months to come.
Last thing
We have a great mini recipe for a chile oil dip to serve with these, with oil-packed Calabrian chilies, garlic, and more lemon juice—it really helps cut through the richness of the fat-on-fat-on-fat in the risotto.
This recipe makes a party's worth of arancini, so please use this as an excuse to throw a party. Send paper invites. Buy tiny napkins. Make a bathtub of spritzes! Celebrate what blessings the fry gods have bestowed upon us.
Get the recipe:
Bake Crunchy Croutons Directly into Your Soup, Win at Life
I think we can all agree that, more often than not, a bowl of soup, a hearty stew, or a saucy braise is only improved by the addition of bread. Sometimes that's a hunk of freshly baked baguette. Other times a buttery dinner roll. Bread is the staff of life, as they say.
But lately it feels like that phrase should be amended to "fried bread is the staff of life." Everywhere I look somebody (myself included) is frying a thick slice of sourdough bread in a slick of olive oil until crunchy and golden brown on one side, soft and doughy on the other, and serving it alongside any saucy concoction worthy of soaking. If you're not one of those people, I urge you to become one. Immediately. Fried bread for life.
But, as I recently discovered, fried bread is not necessarily the end-all, be-all of carb-on-soup situations. One day recently, while working on a Basically recipe for ribollita—a thicccc Tuscan vegetable, bean, and bread stew—it occurred to me that there may in fact be a future beyond fried bread. Don't get me wrong: I love the stuff. But perhaps the lone slice of fried bread, riding shotgun in most cases, could take center stage. An exploration seemed in order, and that already-bready ribollita seemed like the perfect place to start.
Traditionally, Ribollita is made thick and hearty by cooking leftover stale bread directly into a broth-y combination of stewed tomatoes, beans, and other veggies. The bread falls apart and enriches the soup, adding stick-to-your-bones body to the final dish. I like that idea—bread as stew thickening agent. But I was missing the crispity-crunchity quality that fried bread lends, and I didn't see any reason why I should have to choose one or the other.
Thus, the concept of torn-croutons-baked-directly-into-the-top-of-a-soup was born. Once my glorious, soggy bread-enriched ribollita was almost finished, I covered the entire surface of the stew with irregularly-shaped hunks of crusty sourdough bread and drizzled the whole thing with pleeeeenty of good olive oil. Then I popped the whole Dutch oven into a 450° oven until the the stew is thick and burbling, the tops of those craggy croutons were deeply golden and crisp, and the undersides are soaked in thick tomato-y deliciousness. It's the best of both worlds—super-crunchy and soggy-rich at the same time—and you don't even need to dirty another skillet or sheet pan to make it happen. Now that's living!
Even better? This same technique can be applied to literally anything stewy and thick enough to support the bread. Beef stew. Creamy tomato soup. Minestrone. Lentil soup. Split pea. The crout'-on-soup possibilities are truly endless.
So go on: Crack into that crust like it's a savory crème brûlée, and tell me you'd rather eat regular ol' fried bread on the side.
Go forth and bake croutons right the hell into your soup:
Kelly Ripa Wants Nothing to Do With Keto, Thank You Very Much | Healthyish
Kelly Ripa is the most upbeat, revved-up, relentlessly positive person on morning TV. How does she get that way? Bulletproof coffee. A little after 5 a.m., the Live with Kelly and Ryan co-host combines the "darkest roast coffee" she and her husband, actor Mark Consuelos, can find with a spoonful of Organic Valley ghee and two shots of espresso, and blitzes it in a blender until frothy. "It fills me up and I feel satiated, so it keeps me from being ravenous during the show," she explains, since she doesn't eat anything before the cameras roll.
Throughout the 18 years that she has co-hosted Live—first with Regis Philbin, then Michael Strahan, and now Ryan Seacrest—she has learned that eating and being on camera don't mix well. "It's very, very hard to host a morning show when you're digesting—my brain almost goes to sleep," she says. "I've tried eating once or twice before the show and it's always been a disaster."
That said, she does not limit herself when it comes to eating—it just all happens after the show wraps filming for the day. Below, Ripa shares a glimpse into her morning routine (featuring…Madonna?), how she's handling "post-traumatic election disorder," the healthyish snacks she eats like candy, and why at 48 she's eating "whatever the hell I want."
What's your favorite part of your morning routine?
I really love Madonna's MDNA products—bet you didn't know she has a full skincare and makeup line! I got the line as a birthday gift and think it's incredible. I like to put on her rose mist before I put on any moisturizer, and she has an under-eye oil that I think is very moisturizing, and I see a difference with the texture of my skin.
Do you use any wellness products?
I love a jade roller. I'm not sure if it does anything, but I actually love the way it feels on my face, and I keep it in the refrigerator so that it's nice and cold. It probably doesn't do anything, but it feels good. It's just a nice cooling little way to wake up.
Mark and I don't actually work out together ever unless we are on vacation. There's this incredible woman in the Bahamas named Tamara Fredericks-Lorey, @yogatambahamas on Instagram, and we worked with her on our 22-year anniversary trip to Harbor Island last year. That was a nice escape. I think that I've just been too into the election and the news cycle, and I feel like I have post-traumatic election disorder. I just felt like I've been paying too close attention to the news, and I need to disconnect from it for a little bit. I think we all probably do.
How do you unwind after an exhausting day?
Lately, the kids and I have been watching old episodes of Hoarders on Netflix. I used to watch Hoarders when it was on A&E, and I found it fascinating. After my two youngest kids finish their homework, they climb into bed with me and we watch a few episodes before bed. And then I dream about cleaning things out of my closet because I am truly also very affected by that show.
Are there any wellness trends you don't believe in?
I've been given more sage to burn than most people. People really believe in the power of sage. I'm not really a sage burner. I try not to let toxicity in my life, so the need to cleanse it is very minimal. That goes for any level, whether it's people or a work situation, or friendships that are bad for you. I just don't allow that in my space, and therefore I just have bunches of unburned sage everywhere.
What about fad diets?
My husband has gone full keto, which I don't mind telling you is something I could never do. I just don't have that level of discipline. Mark says that I'm carb-o, because I always eat his bun if he gets a burger. And the fries. But you know, I work out, so I feel like I'm allowed. I'm 48, I'm entitled, and I'm eating whatever I want to eat.
What do you snack on in your dressing room?
I do enjoy keeping nuts around me at all times, and I don't just mean the people in my life. [Laughs] I mean almonds and cashews, and I do like dried fruit. I know people will say, "Oh, that's the jellybean of the healthy snack world," but for me, dried apricots and cherries are better than candy. I know it has as much sugar, but I just enjoy it. And peanut butter ThinkThin high protein bars, which many nutritionists have told me "are not the best ones," but I like how they taste.
You stay mostly healthy—what's your "ish"?
Mark and I used to have peanut butter and jelly as a bedtime snack. I'm not sure why. Even as a kid, I didn't really like it, but now here I am. I get ciabatta bread, and now I eat half a sandwich before bed, with chunky Skippy peanut butter or Justin's honey peanut butter and Bonne Maman strawberry or raspberry jam. Here's the thing: I'm 48. These are things at 38 I never would have tainted myself with. But at 48, I'm sort of saying, Who cares? Life is short. Eat the peanut butter and jelly.
Sahib: saveurs indiennes et végétales à Pointe-Claire | MARIE-CLAUDE LORTIE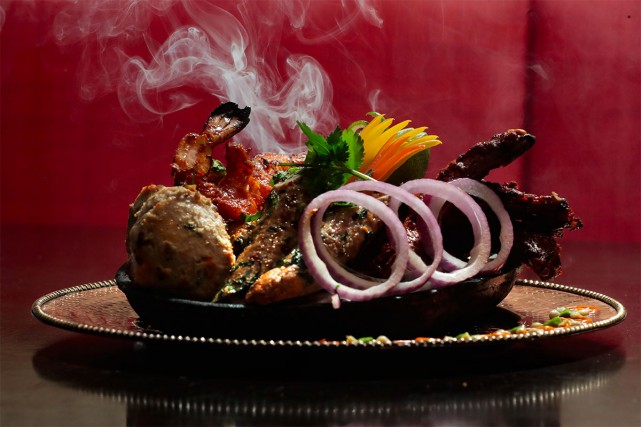 Lorsque le journaliste torontois Suresh Doss m'a posé cette question, alors que nous nous baladions en banlieue de la métropole ontarienne, en quête de dosas, de shu mai et de lamajouns – voir votre section Voyage de samedi dernier -, à l'automne, j'avoue que je suis restée un peu gênée.
J'avais de la difficulté à répondre. Saint-Laurent? ai-je avancé, en pensant aux bons restaurants libanais. Brossard? ai-je ajouté, en me rappelant à quel point j'avais adoré, il y a trop longtemps, une visite chez Kam Fung, temple des dim sums…
La population de Montréal n'est pas aussi diversifiée que celle de Toronto, et surtout pas aussi nombreuse. Il est donc normal qu'on n'ait pas autant de restaurants d'origines culturelles variées, super authentiques, parsemés dans nos banlieues comme c'est le cas de Scarborough à Mississauga.
Mais la question m'a surtout fait réaliser que je devrais plus souvent partir à la recherche d'adresses nouvelles dans nos couronnes. Et c'est l'idée que j'avais en tête quand, peu après, je me suis retrouvée face à face, pour une entrevue, avec un génie du génie, un professeur de Concordia d'origine indienne, mais installé depuis longtemps à Pierrefonds. «Où va-t-on, dans l'Ouest-de-l'Île, pour manger indien?» lui ai-je demandé. Il m'a donné une liste d'adresses.
Et c'est ainsi que je me suis retrouvée tout récemment, une fois la folie des Fêtes passée, à Pointe-Claire, chez Sahib, dont il m'avait dit du bien.
J'avais envie de plats chaleureux sans être trop roboratifs, savoureux sans plomber l'estomac, donc tendance végétarienne.
Je cherchais des prix raisonnables aussi, vu les excès de décembre. Et Sahib offre tout ça, niché dans un immeuble sans façon, à l'angle des boulevards Saint-Jean et Hymus. On y entre sans attendre et on découvre un espace aux murs de bois foncé, avec un bar, comme les vieux restaurants indiens de Londres, des écrans télé où quelques convives, le soir où nous sommes passés, regardaient du baseball. Sur les tables, de petits réchauds à bougies attendent les plats servis dans des casseroles de métal.
Les classiques au rendez-vous
Le menu n'a pas surpris la famille de mangeurs nord-américains que nous sommes. Les classiques sont au rendez-vous. Du poulet au beurre, du pain nan, du paneer aux épinards, du chutney à la menthe et au tamarin. Mais de petits détails ici et là nous ont fait sourire, comme ces carottes marinées, acidulées, encore croquantes, qu'on sert en amuse-bouche avec le papadum, les croustilles de farine de lentilles très légères souvent apportées en début de repas pour commencer à calmer les appétits. On a aussi été comblés par le moelleux des beignets – bhajia – d'oignons aux pois chiches ou par la sauce crémeuse épicée, mais aussi légèrement beurrée et tomatée, des boulettes d'agneau apportées en entrée.
Est-ce que ce repas était parfait? Non. J'ai ajouté du sel sur à peu près tout. Mais c'est tout ce qui manquait pour rendre les plats charmants comme le sag paneer, ce ragoût de morceaux de fromage baignant dans une sauce riche aux épinards qui réchauffe le coeur, surtout quand on le mange avec de gros morceaux de pain nan très moelleux, encore chaud, qu'on défait avec les doigts. Parfait pour les végétariens.
Autre grand succès, l'aloo gobi adraki, une combinaison de chou-fleur et de pommes de terre, cuits ensemble avec des tomates, de la coriandre, des oignons, du gingembre… Encore ici, on aime la combinaison relevée de légumes qui réconfortent subtilement.
Seul déception marquée: les crevettes au tandoori, bien épicées et acidulées, mais trop cuites, coriaces.
Au dessert, on nous avait recommandé les gulab jamoon, des petites boules façon beignets, flottant dans un sirop parfumé qui ne l'était pas assez. On cherchait l'eau de rose et la cardamome. Le thé au lait aux épices pourrait aussi être travaillé un peu plus. Mais on est quand même repartis repus, réchauffés et plus que jamais convaincus que la cuisine indienne demeure la reine du menu végétarien.
Sahib. 225b, boulevard Hymus, Pointe-Claire. 514 426-1121. www.sahib.ca
Notre verdict
Prix: entrées de 3,95 $ à 10,95 $. Plats à partager de 8,95 $ à 17,95 $.
Carte des vins: sélection de bières locales, indiennes et britanniques, ainsi que quelques vins passe-partout.
Service: gentil et en français.
Atmosphère: on a réussi à créer une atmosphère qui fait un peu «pub british» – comme il y en a dans les restaurants indiens à Londres, influence coloniale oblige – dans un immeuble de béton. Surprenant. On aime les réchauds à bougies sur chaque table.
Plus: beaucoup de plats végétariens savoureux.
Moins: la cuisine pourrait être un peu peaufinée.
On y retourne? Si on est dans le coin, oui.