Les Québécois ne mangent pas mieux qu'il y a 15 ans | MARIE ALLARD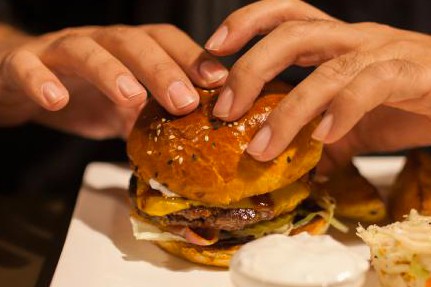 ÉCHEC AVEC UNE NOTE GLOBALE DE 55 %
« On entend souvent que la population est plus consciente de la saine alimentation, que les gens s'alimentent mieux, que le végétarisme est en hausse, que le bio est plus populaire, etc. », observe Benoît Lamarche, professeur à l'École de nutrition de la faculté des sciences de l'agriculture et de l'alimentation de l'Université Laval et responsable de l'étude. « Le portrait n'est pas si reluisant que ça. »
En comparant l'assiette des Québécois aux recommandations du Guide alimentaire canadien, l'enquête établit un Indice de qualité de l'alimentation. Sur une note de 100, les Québécois obtiennent 54,5 %, soit moins que la note de passage. Cela « dénote un régime alimentaire de qualité relativement médiocre par rapport aux recommandations actuelles », lit-on dans l'étude. En 2004, la moyenne canadienne était de 59 %. « Je ne suis pas prêt à dire que ça s'est détérioré, parce que la méthode de mesure n'est pas exactement la même, mais on peut certainement dire que ça ne s'est pas amélioré », constate Benoît Lamarche.
TROP DE GRAS SATURÉS, PAS ASSEZ DE LÉGUMES
Au pays des vaches, à peine 39 % des Québécois consomment suffisamment de produits laitiers ou leurs équivalents. Moins d'un quart de la population (24 %) mange assez de fruits et de légumes. Encore plus rares (12 %) sont ceux qui consomment les portions prescrites de grains entiers. Ce n'est pas tout : 81 % des répondants ingèrent plus de sodium que la limite de 2300 mg par jour et 74 % ont un apport en gras saturés exagéré.
LES JEUNES AUSSI BOUFFENT MAL
Quant aux jeunes, ils bouffent – ce terme familier semble approprié – encore plus mal qu'avant. À peine 26 % d'entre eux consommaient suffisamment de fruits et de légumes en 2016-2017, comparativement à 33 % en 2010-2011, selon l'Enquête québécoise sur la santé des jeunes du secondaire 2016-2017, dévoilée hier par l'Institut de la statistique du Québec (ISQ). Seuls 36 % consomment les portions de lait et substituts recommandées, contre 48 % six ans plus tôt. Même la proportion d'adolescents qui ne déjeunent pas avant d'aller à l'école a augmenté, pour atteindre 14 % en 2016-2017. Peut-être faudrait-il songer à ne plus commencer les cours à 8 h pile pour laisser aux ados le temps d'avoir faim avant de prendre l'autobus vers l'école.
LES CHIPS SONT POUR LA VISITE, VOYONS
Les Québécois ne semblent pas conscients de leur mauvaise alimentation. Un total de 75 % des répondants estiment que leur alimentation est bonne, très bonne ou excellente, selon une enquête menée précédemment par le même groupe de chercheurs. Seuls 25 % la jugent passable ou mauvaise. À force de regarder des émissions de cuisine, on souffre peut-être d'aveuglement volontaire. Surtout quand il est 18 h, qu'on vient de rentrer du boulot et que les enfants ont faim.
OCCASION « INCROYABLE » EN PRÉVENTION
« On est meilleurs pour traiter les maladies, observe Benoît Lamarche. Dans les taux de mortalité par maladie coronarienne, il y a une certaine amélioration dans le temps. Mais on n'est pas très bons pour faire de la prévention. On sait pourtant que la nutrition est au centre de la prévention de toutes les maladies non transmissibles. Ces données montrent qu'on a une opportunité incroyable d'avoir un impact majeur sur la santé de la population en améliorant l'alimentation. » À quand les fruits et légumes appétissants offerts partout – à l'école, au bureau comme au centre de loisirs ?
DES MESURES MUSCLÉES, SVP
« Ça va prendre des mesures musclées pour faire tourner le navire, constate Benoît Lamarche. Je n'ai pas de recette magique, ni la prétention de savoir quoi faire. Mais ce qu'on fait jusqu'à présent ne semble pas avoir d'impact majeur au niveau populationnel. » De plus en plus d'études montrent que la sensibilisation et la responsabilisation des individus ne fonctionnent pas. « Ça passe probablement par une modification des environnements, par un accès favorisé à la saine alimentation », suggère le professeur. Alors que le prix des légumes augmentera de 4 % à 6 % en 2019, selon le Rapport sur les prix alimentaires à la consommation au Canada publié par les universités Dalhousie et de Guelph, il faut s'assurer que les ménages à faible revenu soient en mesure de bien manger.
PROJET NUTRIQUÉBEC
Le nouveau projet NutriQuébec doit permettre d'évaluer les répercussions de mesures gouvernementales – par exemple, une taxe sur le sucre – dans l'assiette des Québécois. Créé dans le cadre de la Politique gouvernementale de prévention en santé du gouvernement du Québec, cet « immense projet », comme le décrit Benoît Lamarche, a l'objectif de recruter plusieurs dizaines de milliers de personnes pour suivre l'évolution de leurs choix alimentaires au fil des ans. Les impacts réels des recommandations du nouveau Guide alimentaire canadien, attendu incessamment, seront mesurés grâce à NutriQuébec. « Nous allons pouvoir voir ce qui fonctionne et ce qui ne fonctionne pas », résume l'expert.
MÉTHODOLOGIE
L'étude PREDISE (Prédicteurs individuels, sociaux et environnementaux) a été menée auprès d'un échantillon représentatif de 1147 adultes francophones de cinq régions administratives du Québec. Les apports alimentaires ont été estimés à partir de la moyenne de trois rappels alimentaires de 24 heures sur plateforme web validés. Fruit d'une collaboration entre des équipes de l'Université Laval, de l'Université de Sherbrooke, de l'Université du Québec à Trois-Rivières et de l'Université de Montréal, les résultats sont publiés aujourd'hui dans le Canadian Journal of Cardiology.
A Good Rugelach Recipe Is Hard To Find, So We Made One
When I think about rugelach, I think about something my grandmother said about me at my grandfather's memorial service. We were standing over his grave, and she was giving him reports on all of his grandchildren. When she got to me (age 12), she said, "When Julia is good, she is very, very good. And when she is bad, she is very, very bad." The same goes for most Jewish baked goods, but it's particularly true of rugelach. (And if you want more explanation on what my grandmother was talking about with that one-liner, I'll just be over here working on my memoir.)
Good rugelach are made from tender, flaky pastry. They have textural contrast: soft dough playing against the crunch of finely chopped nuts rolled inside. They're evenly cooked—toasty and golden all the way through. The absolute best rugelach have a filling that spills out just enough to form a lacy edge surrounding the cookie, like the finest, thinnest smash burger.
Bad rugelach is dry and pasty. And yet it's also simultaneously burnt and greasy. It tastes like it was made sometime during the last world war. And worst of all, it looks basically identical to a good rugelach. You won't know the truth until you've taken a bite, and it's far too late.
So, I was curious how my colleague, definitely-not-a-member-of-the-Tribe-senior-food-editor Chris Morocco, would unleash his unerring exactitude on this iconic Jewish deli cookie. Turns out, he made a few key modifications to ensure that his rugelach, which are not just any rugelach but the cover stars of the Bon Appétit December issue, would land in the "good" camp—and then some.
One: He adds a hit of orange zest and (this is key) a full teaspoon of salt to the raspberry jam-and-walnut filling, giving it the seasoning it rarely receives.
Two: Rather than rolling each rugelach into its own mini croissant shape, Chris makes one big log, then slices off triangular rectangles (a mathematical impossibility, I know). This makes for a speedier process and a more evenly rolled cookie, which ensures that the center will bake through.
Now, all of this was going fine until I got to the third and final modification in Chris's recipe, which was to top the rugelach with blitzed freeze-dried strawberries, which give the cookies the sparkly red luster that makes them look and feel so, you know, holiday-ish.
I question what the rabbis would say about this. I also question where one buys freeze-dried strawberries. I also, to be completely honest, tried my hardest not to F up this recipe but also to complete it during actual Hannukah. So please, no one tell Chris, but I made these without the freeze-dried strawberries. And they were very, very good.
Get the recipe:
These Shortbread Christmas Cookies Will Redeem All the Not-That-Careful Bakers
It was very brave of Bonappetit.com senior editor Sasha Levine to assign me this article. Sure, I've made decent cookies and brownies many times before. But any dessert item that involves making two doughs, measuring the size of the dough based on 6×2" rectangles, and creating layers of said dough is a world beyond my pastry comprehension.
Sasha, for unknown reasons, had blind faith that I could handle it. And ya know what, friends? I did okay! Better than okay even! A sugar-happy four-year-old and several colleagues confirmed that my cookies tasted great—like shortbread meets a not-too-sweet chocolate Oreo, minus the cream filling. Plus, they looked mostly like the professionally styled photo, minus some uneven blue sprinkles and a chocolate layer that didn't make it all the way to the edges. I found myself eating "several" at a time.
If I, a person who has stains on her shirt more often than not, can make these cookies, then I feel very confident that you can too. So bust out that pastry ruler and keep these things in mind:
1. Don't be intimidated by the swirl.It's right there in the recipe headnote: "Here's a fancy-looking swirl that novices can succeed at too." This is a forgiving swirl. Let's say, hypothetically, that you make your two doughs and discover that somehow you have a bit more vanilla dough than chocolate dough…and the vanilla dough is a little more pliable. Soldier on, comrade! As long as you can still stack the doughs per the recipe instructions (see more below), it's all going to be fine. If you're a perfectionist, I'm sure your cookies will look amazing. If you're the kind of person who consistently discovers food in your hair many hours since you last ate (hi! Let's be friends!), these cookies can still be part of your repertoire.
2. You can make the dough three days ahead of time.Cookie projects are fun, but then life gets in the way—grocery shopping took longer than you thought, you have been meaning to go to the gym, that cheesy Netflix Christmas movie is beckoning you… It's all good. Make the dough, put it in the fridge, and bake the cookies another day. These are cookies for sort of lazy—but not entirely lazy—people.
3. These cookies can help you get out some rage.The step I was dreading the most was when you have to stack the vanilla and chocolate layers on top of each other to join them into one black-and-white log. My doughs were, um, not exactly the same texture (as previously confessed) and I was worried about that final swirl. In the end, though, this ended up being my favorite part. The instructions say to "pat into rectangles" but I interpreted "pat" as "aggressively mold the layers while working through some "feelings." It was cathartic. May the layering offer you the same respite it did for me.
Get the recipe:
You know what would make a pretty great holiday gift? Our magazine! And a cool tote bag, plus some great baking tools for holiday cookies. More details here.
Crispy Smashed Potatoes and Chickpeas with Greek Salad Recipe
In a medium pot, cover potatoes by about an inch and a half of water. Season generously with salt and bring to a boil. Reduce heat and simmer until just cooked through, about 15 minutes, do not overcook. Drizzle a rimmed baking sheet with 2 tablespoons of the oil. Drain the potatoes and transfer to the prepared baking sheet. Let sit until cool enough to handle, about 15 minutes.