Quand des Mexicaines apprennent à « sexter » en toute sécurité | JEAN LUIS ARCE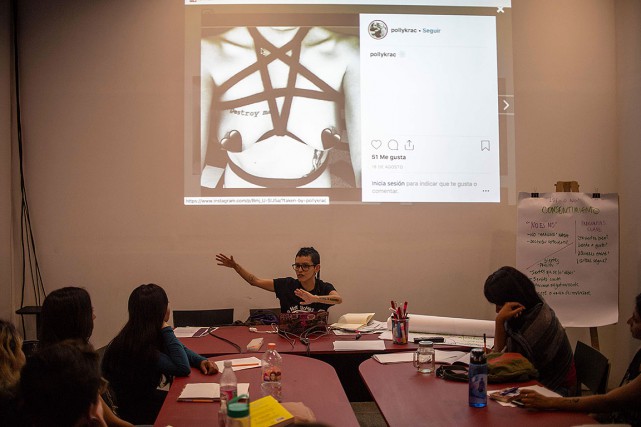 La quadragénaire se dit fière d'appartenir à un petit groupe de femmes qui explorent leur sexualité et pimentent leurs relations en partageant des égoportraits coquins pris avec leur téléphone.
Gratuit, l'atelier intitulé « Je sexte, et toi ? » est organisé par un groupe de défense des droits des femmes baptisé Luchadoras (Les lutteuses). En le soutenant, les autorités veulent encourager les femmes à considérer les sextos comme une forme de liberté d'expression et de libération sexuelle, mais les aider aussi à prendre conscience des dangers de cette pratique.  
« Les sextos me donnent la liberté d'exprimer ma sensualité », explique Marytrini Aguilar, cheveux bruns et tatouages sur le bras et le buste. « Ça flatte ma vanité et me rassure. Je suis contente de faire plaisir à la personne à qui j'envoie la photo », dit-elle. « Je pense que mes amies le font aussi, mais elles ne l'avoueront jamais », explique cette femme d'affaires, qui aime sexter avec son mari.
Elle dit que l'atelier – enseigné en trois sessions de quatre heures – lui a permis de se sentir plus à l'aise. Une session est notamment consacrée à aider les femmes à avoir une meilleure connaissance de leur corps. « Nous avons appris que nous sommes toutes pareilles, que nous pouvons continuer à explorer notre sexualité et notre sensualité, et que chacune d'entre nous peut être sensuelle », explique la quadragénaire.
Sexe et technologie
Mais dans un monde désormais hyperconnecté, le sexe et la technologie peuvent constituer un mélange dangereux, en particulier pour les femmes.
Le « revenge porn », qui consiste à publier des photos compromettantes d'anciens partenaires, s'est développé au point que 40 États américains l'ont interdit, ainsi que des pays comme la Grande-Bretagne ou le Japon.
Au Mexique, un pays possédant une longue histoire de machisme avec des niveaux alarmants de violence à l'égard des femmes, huit États l'ont également prohibé. Des pirates ont cependant développé une activité consistant à voler des photographies intimes sur le portable de leurs victimes.
Lulu Barrera, fondatrice de Luchadoras qui dirige l'atelier, rappelle que cette pratique est très répandue dans tout le pays, « d'une manière massive et organisée ».
Mais au sein de la société et dans la loi, « cette idée selon laquelle les femmes qui sextent doivent faire attention, ne pas s'exprimer sexuellement » revient à « en faire des coupables et les victimiser à nouveau », juge-t-elle.
« Amplifier le plaisir »
Gisela Rubio, une autre participante à cet atelier, a commencé à sexter à 17 ans. « C'est magnifique, car tout le monde peut le faire, il n'y a aucun risque de grossesse ou de maladies sexuellement transmissibles. Vous amplifiez votre plaisir et vos horizons sexuels », dit-elle.
Cette étudiante en psychologie de 22 ans rédige une thèse sur la pratique chez les lycéens. Selon elle, ce sont presque toujours les filles qui sont victimes d'un échange de sextos qui tourne mal.
« Au lieu de dire « Ne verse pas dans les sextos », car tu vas finir par te suicider ou être renvoyé du lycée, on devrait plutôt élaborer des politiques de sensibilisation et permettre aux gens de le faire en toute sécurité », plaide cette étudiante.  
Des participantes reconnaissent que la pratique d'envoyer des sextos est surtout féminine. « La femme est plus encline à exprimer sa sensualité, peut-être que l'homme ne se voit pas comme ça ou on ne le projette pas comme ça », estime Marytrini Aguilar.  
« Le corps de la femme a toujours été considéré comme un objet de consommation par les hommes, je pense que c'est pour cela qu'il est plus courant » dans les sextos, analyse Gisela Rubio.  
L'étudiante suggère de ne pas limiter l'échange d'images aux parties génitales, surtout masculines. « Peut-être que votre partenaire aime votre dos, vos jambes, vos pieds ou vos mains », dit-elle.
Une partie de l'atelier consiste d'ailleurs à apprendre à échanger des images de détails physiques autres que les parties génitales.
L'atelier comprend également des cours sur la cybersécurité, les métadonnées, la géolocalisation, ou encore sur les applications permettant d'obscurcir les visages, de sécuriser les discussions ou d'envoyer des messages qui s'autodétruisent.
« Nous grandissons avec des téléphones portables à la main », rappelle Rio, une photographe qui apprend aux participantes à mieux prendre des photos de nus.
« Mais nous devons mettre fin à ces tabous qui constituent une violence contre les jeunes, en particulier contre les jeunes femmes qui exercent simplement leur droit d'utiliser leur corps, et vivre leur sexualité », dit-elle.
French Toast Casserole Recipe | Bon Appetit
Place a rack in top third of oven; preheat to 325°. Let bread sit out at room temperature while oven preheats, at least 30 minutes. Uncover pan, tilt, and ladle custard back over tops of bread. Press down once more to submerge. Brush tops of bread with 3 Tbsp. melted butter. Sprinkle with demerara sugar. Bake bread until it is lightly golden, puffed, and pulling away from edges of pan, and butter is bubbling, 30–40 minutes.
These Striped Shortbread Cookies Have Taken Over Our Instagram Feed
Every December, the BA Test Kitchen churns out a handful of festive cookie recipes that go all out on the holiday vibes (glitter, kooky shapes, bizarro toppings). And every December, one cookie steals the stage as the most ogled, most baked confection of the year. For 2018, that winner—and by a landslide—is Chris Morocco's zebra shortbread, a twist on the OG (literally), with layers of chocolate shortbread rolled right in. And if the black-and-white stripes weren't enough, the cookies coated in green and red sanding sugar—just in case you forgot that Christmas is RIGHT AROUND THE CORNER!!! So yeah, we can tell you all about how everyone is making the zebra cookies, but wouldn't you much rather see everyone's two-toned creations? We thought so.
Sooo, you're going to make them now right?
Ban All Shared Plates! And Other Strong Opinions from the 'Marvelous Mrs. Maisel' Co-Creators
Toddlers running around and screaming. Parents drunk on mimosas at 11 a.m. A shared plate with four crostini set down at a table of three. This is what hell looks like for Amy Sherman-Palladino and Dan Palladino, the award-winning writer-director-producers behind The Marvelous Mrs. Maisel, Gilmore Girls, and Bunheads. The pair eats out a lot, and they have plenty to say about what drives them insane—including small plates, molecular gastronomy, and the general lack of a decent salad. The two are about as fast-talking, quick witted, and animated as any one of their characters, trading punches (and punchlines) while the other holds. Here, in between bites of corned beef and turkey "Midge" sandwiches at the recent Marvelous Mrs. Maisel Carnegie Deli popup in New York, they kvetch about their most profound dining nightmares, and offer up one very simple suggestion to any chef who'll listen.
Dan Palladino: I have not adjusted to the shared plate thing at all. It's always awkward for me. Let's say there's four things on there and there's three people—no one will take the fourth one because everyone's too afraid to overstep the bounds. I never know what to eat, I'm always so nervous about sharing. I just always want my own thing.
Amy Sherman-Palladino: Your issue with that is because food was very competitive in your family. If you didn't get to that thing that you liked quickly, it wasn't going to be there and you were going to be stuck with the thing you didn't like. Your brother and sister were hungry, and they would always come and take your food.
Dan: It was a little competitive. My mother wasn't Italian, so she didn't make an abundance of food. She made servings, so there were specific servings.
Amy: Yeah, I had friends like that. You'd go to their house and there'd be four people and there'd be four pork chops, and four perfect portions of peas.
When I make Thanksgiving dinner, I always make two turkeys in case I fuck up one. I believe in over-serving, in having an overabundance of food when people come over. Nobody should ever feel like they're going to go home hungry or there's not enough of the thing that they like.
By the way, shared plates are not my favorite thing either, because I'm an only child and I like my stuff. We try not to go to those restaurants.
Dan: It's when other couples say, « Hey, let's go to so-and-so, » and I don't want to be a party pooper, so we do it. I'm very, very nervous. I try to make sure that the stuff ordered is what I will eat. That's the other thing: Because I'm not a foodie, I'm very picky. I'm just always nervous about how to pick, when to pick, what to leave. It's just nerve racking.
Amy: But we do tell people that we don't do brunch. We hate brunch, we hate the concept of it.
Dan: It's not a real meal.
Amy: It's not a real meal! There's either breakfast or lunch. It's an excuse for people to get drunk at 11 o'clock in the morning, and assume that everyone's going to be fine with their children screaming and running around a restaurant. That's the only reason that brunch exists. So that is the one thing. When people are like, « Let's do brunch. » We're like, « We can't, we don't. We'll have dinner with you, we'll have drinks with you, we'll have any legitimate meal that wasn't made up, but we will not do brunch. »
Dan: Anthony Bourdain, I think, was the one who pointed out in his book [Kitchen Confidential], that it's the "F You" meal—that's the one that none of the chefs want to prepare, none of the waiters want to work at. It's a room full of unhappy workers making food.
Amy: Just have a nice breakfast. Have some eggs and bacon.
Dan: Diners. We like diners. But any restaurant that tells you, "Order whatever you want, but it's going to come out when we think it's ready—"
Amy: I am paying for this. I should get the salad before the hamburger if I want the salad before the hamburger. We don't do omakase or prix fixe. I don't want them to tell me what I'm going to have. I don't want one quail egg with a sprig in the middle of it. I don't want anything that came out of a science lab. I don't want things that smoke, or a strawberry that's not really a strawberry. Just put a damn salad on the menu. It doesn't need 15 different ingredients in it, it doesn't need nuts and twigs and fruit, and flowers… just some nice lettuce, maybe a radish and a light dressing. Just have one damn salad on the menu that's not terrifying. That's it.
Dan: Yeah, because we often have to order them off the menu. Just put it on the menu.
Amy: Everybody likes a nice, small salad. And they feel like a schmuck asking for it. Oh, and I don't understand the no bread thing, that you have to order bread or pay for a bread basket. Just give me the bread!