Facebook chooses Canada for Dating feature launch today
[ad_1]

Mark Zuckerberg is ready to play matchmaker for Canadians.
His company Facebook Inc. will aim to make its social media platform's users more than just friends with a new dating feature that will mark its North American launch in Canada on Thursday.
Facebook Dating, which was previously piloted in Colombia, operates with users creating profiles that are separate from their Facebook ones and kept out of sight of friends.
The more you share about yourself, the more there is potential exposure from a privacy point of view.– Imran Ahmad, cybersecurity lawyer
The company will recommend matches that users aren't already friends with, but who share dating preferences, interests and if they'd like, mutual friends or groups and events.
The offering will support text-only conversations between matches in an effort to minimize « casual encounters » by building long-term relationships instead and will attempt to reduce catfishing — using a fake online identity to trick prospective love interests — by importing ages and locations from a user's traditional Facebook profile.
« We were really thinking about how inauthentic experiences are making online dating really difficult… and preventing people from trusting online dating and forming a meaningful connection, » said Charmaine Hung, Facebook Dating's technical program manager. « We wanted to make sure you could build that trust with someone. »
Privacy concerns
Facebook Dating's Canadian rollout comes as the technology giant is embroiled in privacy concerns following a series of data breaches. The most high-profile came last winter, when the company admitted the data of up to 50 million Facebook users was misused by analytics firm Cambridge Analytica. User privacy was at risk again this September when the company reported a major security breach in which 50 million accounts may have been accessed by unknown attackers.
The company will recommend matches that users aren't already friends with, but who share dating preferences, interests and if they'd like, mutual friends or groups and events. (Facebook)
Some experts said the dating offering will raise privacy concerns of its own and is unlikely to assuage worries about the platform — even if Zuckerberg previously claimed « we have designed this with privacy and safety in mind from the beginning. »
Tamir Israel, a lawyer at the Samuelson-Glushko Canadian Internet Policy and Public Interest Clinic at the University of Ottawa, said he had concerns around how separate someone's Facebook and Dating profiles will truly be because they're contained within the same app.
« People will think there is a degree of insulation because they are deciding what goes into their (Dating) profile…but we have seen over and over again that those types of divides are difficult to maintain, » Israel said.
« It looks like, in spite of the challenges, they are making an effort to silo this a bit from the rest of their ecosystem, but the problem is they have a bit of a bad track record of eroding that over time. »
Privacy concerns are why Facebook has introduced Dating with a slew of measures aimed at « integrity and safety, » said Hung.
Users will have to opt in
For example, users will have to opt-in for the dating feature instead of being automatically enrolled. When they opt in, they will need to initialize their location services to verify they are in the city they are purporting to be in, but they can rescind that access once they've signed up.
There will also be a feature that allows people to be blocked and prevents users from messaging potential interests more than once, if the other person hasn't reciprocated with a response.
If a user is overwhelmed with matches or wants to take a break from dating, they can pause Dating and if they decide the app isn't for them, they can opt out and all their Dating data will be destroyed, Hung said.
« Good on Facebook for having thought through some of these issues, given some of the concerns they have had on privacy, » said Imran Ahmad, a partner at Miller Thomson who leads the firm's cybersecurity practice.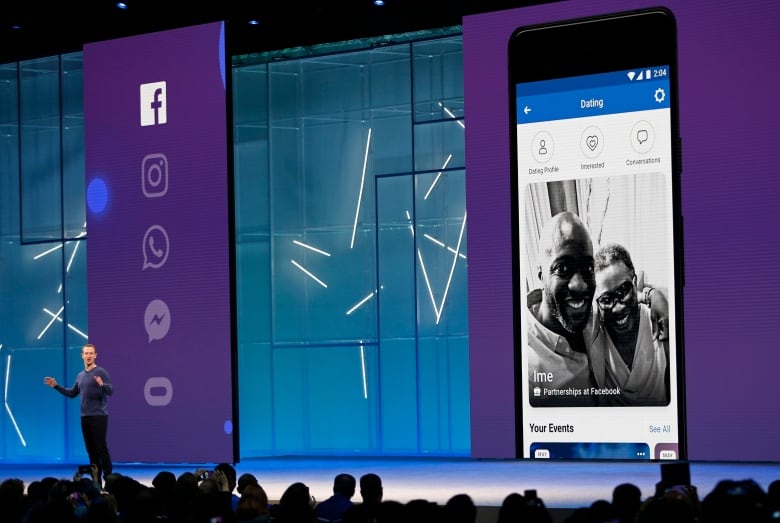 Facebook CEO Mark Zuckerberg speaks about the dating feature at Facebook Inc's annual F8 developers conference in San Jose, California, U.S. May 1, 2018. (Stephen Lam/Reuters)
« The more you share about yourself, the more there is potential exposure from a privacy point of view. »
He said he was going to give Facebook the benefit of the doubt because it has pledged to address its privacy issues and has helped create a culture where social media users are becoming more attuned to privacy concerns.
« Arguably folks should be more comfortable with Facebook now given all the scrutiny they have gone through in terms of their recent missteps because everyone is watching everything they have done, » he said. « Their information is probably more secure than it was in the past. »
[ad_2]

Source link
'Business as usual' for Dorel Industries after terminating go-private deal
MONTREAL — Dorel Industries Inc. says it will continue to pursue its business strategy going forward after terminating an agreement to go private after discussions with shareholders.
« Moving ahead. Business as usual, » a spokesman for the company said in an email on Monday.
A group led by Cerberus Capital Management had previously agreed to buy outstanding shares of Dorel for $16 apiece, except for shares owned by the family that controls the company's multiple-voting shares.
But Dorel chief executive Martin Schwartz said the Montreal-based maker of car seats, strollers, bicycles and home furniture pulled the plug on a deal on the eve of Tuesday's special meeting after reviewing votes from shareholders.
"Independent shareholders have clearly expressed their confidence in Dorel's future and the greater potential for Dorel as a public entity, » he said in a news release.
Dorel's board of directors, with Martin Schwartz, Alan Schwartz, Jeffrey Schwartz and Jeff Segel recused, unanimously approved the deal's termination upon the recommendation of a special committee.
The transaction required approval by two-thirds of the votes cast, and more than 50 per cent of the votes cast by non-family shareholders.
Schwartz said enhancing shareholder value remains a top priority while it stays focused on growing its brands, which include Schwinn and Mongoose bikes, Safety 1st-brand car seats and DHP Furniture.
Dorel said the move to end the go-private deal was mutual, despite the funds' increased purchase price offer earlier this year.
It said there is no break fee applicable in this case.
Montreal-based investment firm Letko, Brosseau & Associates Inc. and San Diego's Brandes Investment Partners LP, which together control more than 19 per cent of Dorel's outstanding class B subordinate shares voiced their opposition to the amended offer, which was increased from the initial Nov. 2 offer of $14.50 per share.
« We believe that several minority shareholders shared our opinion, » said Letko vice-president Stephane Lebrun, during a phone interview.
« We are confident of the long-term potential of the company and we have confidence in the managers in place."
Pandemic funds helping Montreal businesses build for a better tomorrow
Many entrepreneurs have had to tap into government loans during the pandemic, at first just to survive, but now some are using the money to better prepare their businesses for the post-COVID future.
One of those businesses is Del Friscos, a popular family restaurant in Dollard-des-Ormeaux that, like many Montreal-area restaurants, has had to adapt from a sit-down establishment to one that takes orders online for takeout or delivery.
"It was hard going from totally in-house seating," said Del Friscos co-owner Terry Konstas. "We didn't have an in-house delivery system, which we quickly added. There were so many of our employees that were laid off that wanted to work so we adapted to a delivery system and added platforms like Uber and DoorDash."
Helping them through the transition were emergency grants and low-interest loans from the federal and provincial governments, some of which are directly administered by PME MTL, a non-profit business-development organization established to assist the island's small and medium-sized businesses.
Konstas said he had never even heard of PME MTL until a customer told him about them and when he got in touch, he discovered there were many government programs available to help his business get through the downturn and build for the future. "They've been very helpful right from day one," said Konstas.
"We used some of the funds to catch up on our suppliers and our rents, the part that wasn't covered from the federal side, and we used some of it for our new virtual concepts," he said, referring to a virtual kitchen model which the restaurant has since adopted.
The virtual kitchen lets them create completely different menu items from the casual American Italian dishes that Del Friscos is known for and market them under different restaurant brand names. Under the Prasinó Soup & Salad banner, they sell healthy Greek options and their Stallone's Sub Shop brand offers hearty sandwiches, yet the food from both is created in the same Del Friscos kitchen.
Downtown Montreal office, retail vacancies continue to rise
Some of downtown Montreal's key economic indicators are heading in the wrong direction.
Office and retail vacancies in the city's central core continued to climb in the fourth quarter of 2020, according to a quarterly report released Thursday by the Urban Development Institute of Quebec and the Montréal Centre-Ville merchants association. The report, whose first edition was published in October, aims to paint a socio-economic picture of the downtown area.
The survey also found office space available for sublet had increased during the fourth quarter, which may foreshadow even more vacancies when leases expire. On the residential front, condo sales fell as new listings soared — a sign that the downtown area may be losing some of its appeal to homeowners.
"It's impossible not to be preoccupied by the rapid increase in office vacancies," Jean-Marc Fournier, the former Quebec politician who now heads the UDI, said Thursday in an interview.
Still, with COVID-19 vaccinations set to accelerate in the coming months, "the economic picture is bound to improve," he said. "People will start returning downtown. It's much too early to say the office market is going to disappear."
Public health measures implemented since the start of the pandemic almost a year ago — such as caps on office capacity — have deprived downtown Montreal of more than 500,000 workers and students. A mere 4,163 university and CEGEP students attended in-person classes in the second quarter, the most recent period for which figures are available. Border closures and travel restrictions have also brought tourism to a standstill, hurting hotels and thousands of local businesses.
Seventy per cent of downtown workers carried out their professional activities at home more than three days a week during the fourth quarter, the report said, citing an online survey of 1,000 Montreal-area residents conducted last month.