Humboldt Broncos tragedy: What happened, according to the agreed statement of facts
[ad_1]

The Crown and Jaskirat Singh Sidhu, the truck driver involved in the crash that killed several members of the Humboldt Broncos hockey team, have reached an agreed statement of facts at his sentencing hearing in Saskatchewan.
Sidhu has pleaded guilty to all 29 counts of dangerous driving laid against him in connection with the crash, which killed 16 people and injured 13 others.

READ MORE:
Humboldt Broncos team bus hit semi running stop sign

Here's what happened that night on Friday, Apr. 6, 2018, according to the agreed statement of facts.
The intersection
Sidhu was travelling westbound on Highway 335 in a transport truck carrying two trailers loaded with peat moss. He was the only person in the vehicle, travelling at between 86-96 kilometres an hour.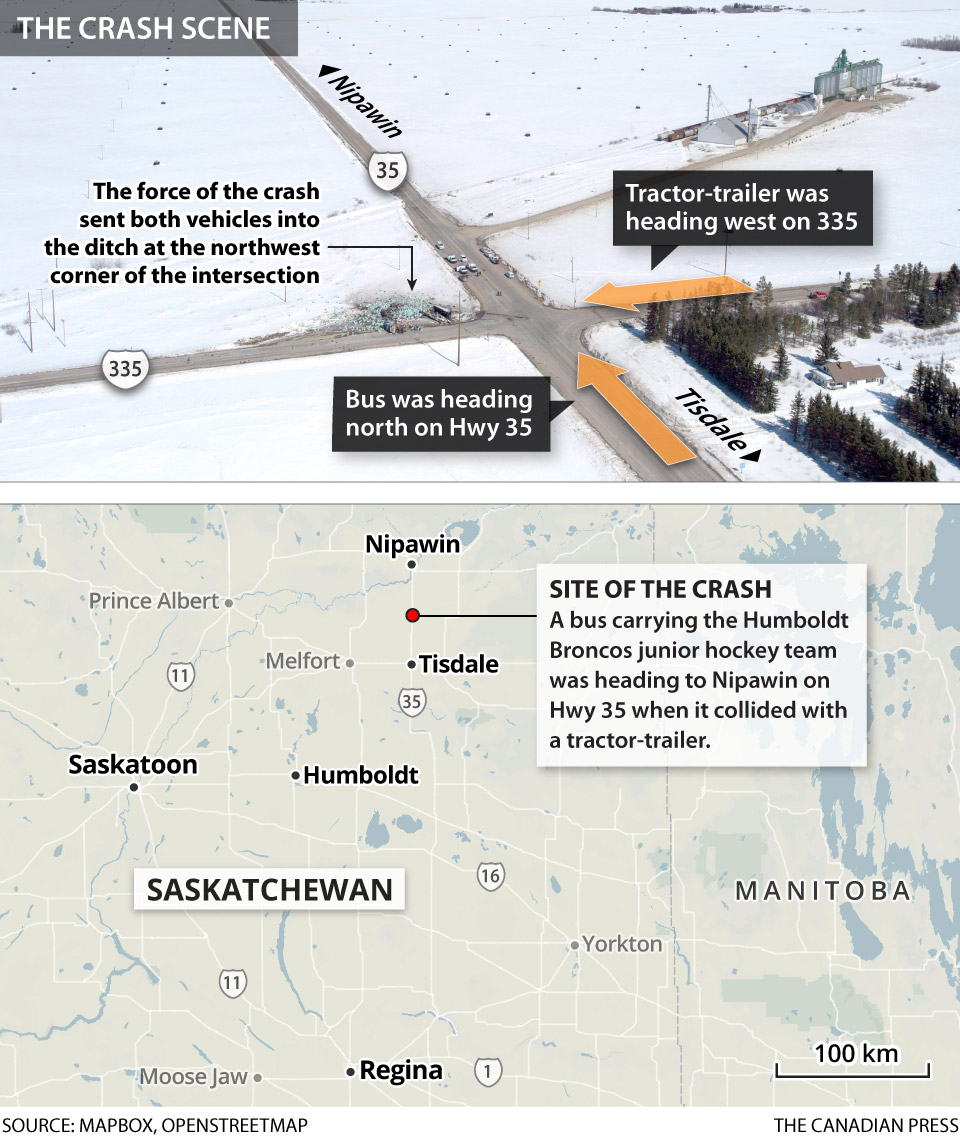 A bus carrying the Humboldt Broncos hockey team was travelling northbound on Highway 35 at approximately 96-107 kilometres an hour. There were 29 people aboard the bus.
WATCH BELOW: Safety report offers recommendations for intersection in Humboldt crash
Sidhu failed to heed a stop sign at the intersection of Highways 35 and 335, near Armley, Sask. His truck was completely blocking the intersection when the Broncos' bus slammed into the lead trailer at just before 5 p.m.
Tire marks show the bus tried to stop, but the truck did not.
What the truck driver saw
Sidhu faced a stop sign at the intersection. The Broncos' bus did not.
The stop sign itself was "oversized" and measured 1.2 metres across. It was attached to a post with a blinking red light immediately above it, 19 metres ahead of the intersection.
WATCH BELOW: Investigators recreate bus crash at intersection
There was nothing to obscure Sidhu's view of the stop sign, according to the agreed statement of facts. The sun was not in his eyes, the road was not affected by any inclement weather and the intersection was clearly visible before the collision. Sidhu also passed signs indicating that an intersection with a stop sign was ahead.
"The semi-tractor unit did not stop prior to entering the intersection. No tire skid marks due to braking were left by the semi-tractor unit."
A few trees southeast of the intersection would not have blocked Sidhu's ability to see the approaching bus, if he had stopped to check for traffic at the intersection.
Sidhu was not under the influence of drugs or alcohol at the time, and was not distracted by a cellphone.
What the bus driver saw
Glen Doerksen, the Broncos' bus driver, saw the transport truck blow through the stop sign and hit his brakes 24 metres before the intersection, but there was no way for him to evade it.
WATCH BELOW: Guilty plea spares Humboldt families from reliving grief through trial
"The actions of the driver of the bus did not contribute to the collision," the agreed statement of facts said.

"The actions of Mr. Sidhu while operating the semi-tractor unit caused the collision."
The collision
The bus struck the truck's front trailer in a T-bone collision. The bus sustained massive damage, particularly at the front. The driver and 13 passengers were killed immediately. Two others died of their injuries in hospital.

READ MORE:
Broncos families prepare for sentencing hearing

Thirteen people on the bus were injured in the crash.
© 2019 Global News, a division of Corus Entertainment Inc.
[ad_2]

Source link
'Business as usual' for Dorel Industries after terminating go-private deal
MONTREAL — Dorel Industries Inc. says it will continue to pursue its business strategy going forward after terminating an agreement to go private after discussions with shareholders.
« Moving ahead. Business as usual, » a spokesman for the company said in an email on Monday.
A group led by Cerberus Capital Management had previously agreed to buy outstanding shares of Dorel for $16 apiece, except for shares owned by the family that controls the company's multiple-voting shares.
But Dorel chief executive Martin Schwartz said the Montreal-based maker of car seats, strollers, bicycles and home furniture pulled the plug on a deal on the eve of Tuesday's special meeting after reviewing votes from shareholders.
"Independent shareholders have clearly expressed their confidence in Dorel's future and the greater potential for Dorel as a public entity, » he said in a news release.
Dorel's board of directors, with Martin Schwartz, Alan Schwartz, Jeffrey Schwartz and Jeff Segel recused, unanimously approved the deal's termination upon the recommendation of a special committee.
The transaction required approval by two-thirds of the votes cast, and more than 50 per cent of the votes cast by non-family shareholders.
Schwartz said enhancing shareholder value remains a top priority while it stays focused on growing its brands, which include Schwinn and Mongoose bikes, Safety 1st-brand car seats and DHP Furniture.
Dorel said the move to end the go-private deal was mutual, despite the funds' increased purchase price offer earlier this year.
It said there is no break fee applicable in this case.
Montreal-based investment firm Letko, Brosseau & Associates Inc. and San Diego's Brandes Investment Partners LP, which together control more than 19 per cent of Dorel's outstanding class B subordinate shares voiced their opposition to the amended offer, which was increased from the initial Nov. 2 offer of $14.50 per share.
« We believe that several minority shareholders shared our opinion, » said Letko vice-president Stephane Lebrun, during a phone interview.
« We are confident of the long-term potential of the company and we have confidence in the managers in place."
Pandemic funds helping Montreal businesses build for a better tomorrow
Many entrepreneurs have had to tap into government loans during the pandemic, at first just to survive, but now some are using the money to better prepare their businesses for the post-COVID future.
One of those businesses is Del Friscos, a popular family restaurant in Dollard-des-Ormeaux that, like many Montreal-area restaurants, has had to adapt from a sit-down establishment to one that takes orders online for takeout or delivery.
"It was hard going from totally in-house seating," said Del Friscos co-owner Terry Konstas. "We didn't have an in-house delivery system, which we quickly added. There were so many of our employees that were laid off that wanted to work so we adapted to a delivery system and added platforms like Uber and DoorDash."
Helping them through the transition were emergency grants and low-interest loans from the federal and provincial governments, some of which are directly administered by PME MTL, a non-profit business-development organization established to assist the island's small and medium-sized businesses.
Konstas said he had never even heard of PME MTL until a customer told him about them and when he got in touch, he discovered there were many government programs available to help his business get through the downturn and build for the future. "They've been very helpful right from day one," said Konstas.
"We used some of the funds to catch up on our suppliers and our rents, the part that wasn't covered from the federal side, and we used some of it for our new virtual concepts," he said, referring to a virtual kitchen model which the restaurant has since adopted.
The virtual kitchen lets them create completely different menu items from the casual American Italian dishes that Del Friscos is known for and market them under different restaurant brand names. Under the Prasinó Soup & Salad banner, they sell healthy Greek options and their Stallone's Sub Shop brand offers hearty sandwiches, yet the food from both is created in the same Del Friscos kitchen.
Downtown Montreal office, retail vacancies continue to rise
Some of downtown Montreal's key economic indicators are heading in the wrong direction.
Office and retail vacancies in the city's central core continued to climb in the fourth quarter of 2020, according to a quarterly report released Thursday by the Urban Development Institute of Quebec and the Montréal Centre-Ville merchants association. The report, whose first edition was published in October, aims to paint a socio-economic picture of the downtown area.
The survey also found office space available for sublet had increased during the fourth quarter, which may foreshadow even more vacancies when leases expire. On the residential front, condo sales fell as new listings soared — a sign that the downtown area may be losing some of its appeal to homeowners.
"It's impossible not to be preoccupied by the rapid increase in office vacancies," Jean-Marc Fournier, the former Quebec politician who now heads the UDI, said Thursday in an interview.
Still, with COVID-19 vaccinations set to accelerate in the coming months, "the economic picture is bound to improve," he said. "People will start returning downtown. It's much too early to say the office market is going to disappear."
Public health measures implemented since the start of the pandemic almost a year ago — such as caps on office capacity — have deprived downtown Montreal of more than 500,000 workers and students. A mere 4,163 university and CEGEP students attended in-person classes in the second quarter, the most recent period for which figures are available. Border closures and travel restrictions have also brought tourism to a standstill, hurting hotels and thousands of local businesses.
Seventy per cent of downtown workers carried out their professional activities at home more than three days a week during the fourth quarter, the report said, citing an online survey of 1,000 Montreal-area residents conducted last month.