[ad_1]

Le virtuose de la photographie naturaliste décroche une nouvelle récompense. Il est primé dans la catégorie Photojournaliste du Wildlife Photographer of the Year, organisé par le Musée d'Histoire naturelle de Londres. Son prix lui a été remis lundi 15 octobre.
Greg Lecœur? Il pourrait incarner le Petit Prince de Saint-Exupéry. À la fois réservé et déterminé, passionné et discret, ce photographe, qui contribue régulièrement aux pages Voyage du Figaro Magazine, accumule prix et récompenses, avec une modestie et un naturel qui forcent le respect. La dernière distinction en date, dans le cadre du concours du Musée d'Histoire naturelle de Londres, confirme son rang parmi l'élite du photojournalisme Nature.
Sa photo intitulée La vie malgré tout a tapé dans l'œil du jury, séduit par les qualités de composition de l'image et sa pertinence informative. Elle montre un poisson-grenouille qui tente de se camoufler entre des déchets plastiques alors qu'il se dissimule habituellement au milieu des sargasses. Un message fort, qui alerte sur les dangers que fait peser la pollution liée aux millions de tonnes de déchets plastiques qui dérivent à la surface des océans.
»LIRE AUSSI – «Terminal F» spécial Océan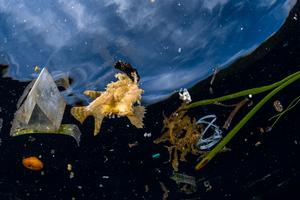 Un sujet sensible pour Greg Lecœur, très engagé dans la protection de l'environnement sous-marin, comme en témoigne sa toute récente exposition en plein air, Un Souffle en Méditerranée, sur la célèbre Promenade des Anglais à Nice, qui s'est achevée le 30 septembre. Touristes et locaux ont pu découvrir de sublimes clichés sur des espèces insoupçonnées qui vivent au large de Nice, sa ville natale et son lieu d'ancrage entre deux expéditions au bout du monde.
Une patte inimitable, une signature graphique
Une démarche à la fois artistique et pédagogique, pour sensibiliser le grand public, notamment les scolaires, à la biodiversité de la Méditerranée, du plus petit (le plancton) au plus grand (les baleines). Sa plus belle rencontre? «Les globicéphales, des animaux d'une incroyable sociabilité, que l'on pourrait passer des heures à observer sans nécessairement s'immerger», répond-il avec enthousiasme.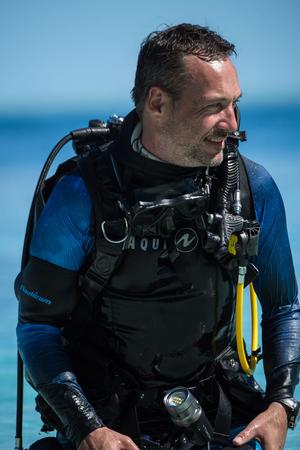 Les photos de Greg Lecœur possèdent une patte inimitable, une signature graphique dont ses aficionados, de plus en plus nombreux, raffolent. Une sorte de poésie documentaire, qui s'appuie sur un nuancier de bleus particulièrement soigné et des compositions au cordeau. On sent l'osmose avec le milieu, un incontestable sens du placement, une maturité technique et une approche animalière à la fois franche, harmonieuse et respectueuse. Un grand art, déployé sur toutes les mers du globe.
L'un de ses sujets de prédilection, le Sardine Run en Afrique du Sud, a donné lieu à un cliché exceptionnel (des fous du Cap plongeant dans un banc de sardines), qui lui a valu le très convoité titre de photographe Nature de l'année lors du concours du prestigieux magazine National Geographic en 2016.
Il est également un ambassadeur des requins, dont il sublime la beauté brute dans son dernier ouvrage, Requins – Guide de l'Interaction, cosigné avec Steven Surina, aux éditions Turtle Prod. À 40 ans, le Niçois est en pleine possession de ses moyens.
Safari océan en Afrique du Sud
Dans une autre vie, cet autodidacte était gérant d'une société spécialisée dans les balances électroniques. À ses heures perdues, dopé au Grand Bleu et aux documentaires de Cousteau, il allait tremper ses palmes dans la baie des Anges et réalisait ses premiers clichés, déjà fort inspirés. À la trentaine, il ne résiste pas à l'appel du grand large et largue les amarres pour un tour du monde qui le conduira, entre autres, aux Galapagos, au Honduras et aux Bahamas.
Au cours de ses pérégrinations, il se constitue un portfolio impressionnant, qu'il valorisera à son retour en France. Sa nouvelle carrière est lancée. Depuis, ce passeur d'émotions court les océans en quête des plus belles scènes animalières, et partage son savoir-faire et son expérience lors de voyages plongée qu'il organise en partenariat avec l'agence de voyages H2O (www.h2ovoyage.com). Au programme: les orques en Norvège du 10 au 17 novembre 2018, un safari océan en Afrique du Sud du 2 au 14 avril 2019 et la faune de Méditerranée en août 2019. À vos agendas!
www.greglecoeur.com
» Vous pouvez également suivre Le Figaro Voyages sur Facebook et Instagram.
[ad_2]

Source link