Situation stabilized at Saint John oil refinery following explosion, fire
[ad_1]

Eight hours after an explosion and fire at the Irving Oil refinery in Saint John shook the city and sent several contractors to hospital with non-life threatening injuries, the situation has been stabilized, Emergency Measures Organization officials say.
But flare-ups are still possible, as part of the normal stabilization process, the organization posted on Twitter shortly after 7 p.m. AT.
« Crews are on site and monitoring, » it said.
Area residents are no longer being urged to remain in their homes. The New Brunswick Department of Environment and Department of Health are monitoring air quality around the east-side refinery and « have not identified any concerns to public health, » said EMO.
The Saint John Fire Department has begun releasing some of its crews and equipment from the site and all streets have reopened to traffic.
Irving Oil refinery explosion captured on video by Sierra Sisk. <a href= »https://t.co/Z2YtbxAfJz »>pic.twitter.com/Z2YtbxAfJz</a>

&mdash;@CaveRachel
A  malfunction in a diesel-treating unit is believed to be the source of the « bed-shaking » blast that sent flames shooting an estimated 30 metres high and saw a plume of black smoke cover most of the city's east side shortly after 10 a.m.
The unit, which removes sulphur from diesel, has been isolated and the rest of the refinery has been shut down « out of an abundance of caution, » said Irving Oil's chief refining and supply officer Kevin Scott.
The Irving Oil facility is the largest refinery in Canada. It employs about 1,400 people and is capable of producing more than 320,000 barrels per day.
Although it's Thanksgiving Monday, close to 3,000 people were working onsite due to a regularly scheduled maintenance project. About 100 were the normal operations crew, while the rest were tradespeople working on the turnaround project, officials said.
« The fact no one was hurt seriously or killed during this incident is something to be very thankful for, » said Saint John Mayor Don Darling.
'I thought I was dead for sure'
Jonathan Wright, an electronic technician from Florida who was working inside the refinery during the fiery explosion, said he thought he was going die.
« We got blasted to the ground. Everything blew up and I didn't know what to do, » he said. « You couldn`t see nothing but flame. »
Contractor Jonathan Wright, who escaped the refinery fire, said he heard a high pitch hiss for three or four seconds before the explosion. (CBC)
Wright knew he had to get out, but the heat from the fire kept him from the stairway down and he says there were no ladders.
« Basically I was swinging through scaffold poles and walking across pipes and everything to get out of there, it was terrible. I didn't want to get burned. »
He hurt his hand, elbow and foot, but considers himself lucky. « I thought I was dead for sure, like guaranteed dead. »
After the blast at the Saint John oil refinery Monday morning, police were warning residents to stay clear of the area. (Photo: Submitted)
Irving Oil is working with WorkSafeNB, the Department of Environment and EMO officials to « understand what happened » and determine next steps, said Scott.
It's too soon to say how long the shutdown will continue, but the company hopes to avoid any interruptions to service, he said.
« We're working through all of our contingency plans in terms of supply. Of course we have finished product in tankage at the refinery and then further out in the system in marine terminals and you know relationships with other suppliers as well that we will draw on to minimize the impact on any of our customers — in Canada or the U.S. »
The following streets are closed: Loch Lomond at Commerce, Grandview at Champlain, Grandview at Bayside, and Loch Lomond at Macdonald.

—@saintjohnpolice
Saint John police responded to the refinery at 10:16 a.m., and were asking people to avoid the area as curious onlookers lined the streets, hoping to catch a glimpse of what was going on.
Several streets were closed but no evacuations were ordered.
After the explosion was reported, the Saint John Regional Hospital went into « code orange, » meaning it was prepared for a possible influx of patients. 
« We can confirm we have now treated five people with injuries from the refinery explosion at Horizon's Saint John Regional Hospital and all five have been discharged., » New Brunswick's Horizon Health Network said on Twitter shortly after 3 p.m.
EMO was reporting four people were treated in hospital for « minor injuries. »
Irving Oil posted on Twitter around 2 p.m. that several contractors were being treated for non-life threatening injuries.
« We now understand that all employees and contractors working on site have been safely accounted for, » the tweet said.
« As this is an active situation, we will be sharing more information as it becomes available. »
No other updates have been posted.
Residents react to explosion
Shaun Watson, who lives on the east side of Saint John, says he felt shaken up by the explosion and fire. (CBC)
Darling said on Twitter early after reports of the explosion emerged: « This is obviously a live event … when we know more, you'll know more. Praying for the safety of all involved. »
Premier Brian Gallant tweeted he has reached out to the mayor.
Gallant said the New Brunswick Emergency Measures Organization was engaging with the city and Irving Oil officials to assess the situation.
« On behalf of all New Brunswickers, our thoughts are with the workers affected and with the community of Saint John, » Gallant said.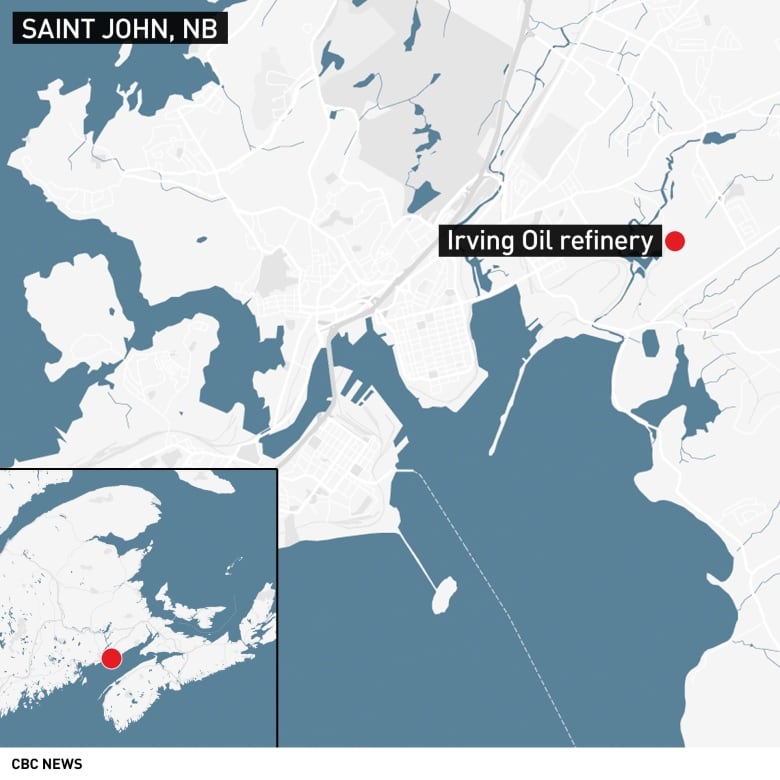 The oil refinery in Saint John. (CBC)
Bob McVicar, who lives in the area of the explosion, posted on Facebook that it felt like a « bed-shaking explosion. »
Area resident Shaun Watson was in his house when he heard a boom.
« The whole house shook, » he said.
Residents across the city also reported on social media that they felt the effects. 
Not the first explosion
Mark Melanson and Jocelyn Legassie were sitting at the Tim Hortons on Hickey Road, about three kilometres away from the refinery, when they heard a popping sound.
They looked outside the window and saw black smoke and flames exceeding the height of the stacks at the refinery.
Officials have said they believe a malfunction in the diesel-treating unit caused the fiery explosion. (Photo: CBC)
Melanson said he has seen explosions like this on YouTube at oil refineries around the world, but never seen anything like this in Saint John.
Legassie agreed, saying: « I've lived in Saint John for 30 years and this is the first time I've seen something like this happen here. »
Very serious fire currently underway at the Irving Oil Refinery. <a href= »https://t.co/te8X4Xl6Tw »>pic.twitter.com/te8X4Xl6Tw</a>

&mdash;@thewrightpage
There was another explosion at the oil refinery in 1998, when flames and a huge cloud of black smoke hung over the facility.
Rob Beebe felt Monday's explosion from his apartment on Martha Avenue, a few streets over from the refinery.
« We felt the entire building move as if it wobbled. »
When he walked outside, he noticed black smoke coming from the refinery, so he hopped into the car, drove down the corner and saw fire about 30 metres high.
[ad_2]

Source link
'Business as usual' for Dorel Industries after terminating go-private deal
MONTREAL — Dorel Industries Inc. says it will continue to pursue its business strategy going forward after terminating an agreement to go private after discussions with shareholders.
« Moving ahead. Business as usual, » a spokesman for the company said in an email on Monday.
A group led by Cerberus Capital Management had previously agreed to buy outstanding shares of Dorel for $16 apiece, except for shares owned by the family that controls the company's multiple-voting shares.
But Dorel chief executive Martin Schwartz said the Montreal-based maker of car seats, strollers, bicycles and home furniture pulled the plug on a deal on the eve of Tuesday's special meeting after reviewing votes from shareholders.
"Independent shareholders have clearly expressed their confidence in Dorel's future and the greater potential for Dorel as a public entity, » he said in a news release.
Dorel's board of directors, with Martin Schwartz, Alan Schwartz, Jeffrey Schwartz and Jeff Segel recused, unanimously approved the deal's termination upon the recommendation of a special committee.
The transaction required approval by two-thirds of the votes cast, and more than 50 per cent of the votes cast by non-family shareholders.
Schwartz said enhancing shareholder value remains a top priority while it stays focused on growing its brands, which include Schwinn and Mongoose bikes, Safety 1st-brand car seats and DHP Furniture.
Dorel said the move to end the go-private deal was mutual, despite the funds' increased purchase price offer earlier this year.
It said there is no break fee applicable in this case.
Montreal-based investment firm Letko, Brosseau & Associates Inc. and San Diego's Brandes Investment Partners LP, which together control more than 19 per cent of Dorel's outstanding class B subordinate shares voiced their opposition to the amended offer, which was increased from the initial Nov. 2 offer of $14.50 per share.
« We believe that several minority shareholders shared our opinion, » said Letko vice-president Stephane Lebrun, during a phone interview.
« We are confident of the long-term potential of the company and we have confidence in the managers in place."
Pandemic funds helping Montreal businesses build for a better tomorrow
Many entrepreneurs have had to tap into government loans during the pandemic, at first just to survive, but now some are using the money to better prepare their businesses for the post-COVID future.
One of those businesses is Del Friscos, a popular family restaurant in Dollard-des-Ormeaux that, like many Montreal-area restaurants, has had to adapt from a sit-down establishment to one that takes orders online for takeout or delivery.
"It was hard going from totally in-house seating," said Del Friscos co-owner Terry Konstas. "We didn't have an in-house delivery system, which we quickly added. There were so many of our employees that were laid off that wanted to work so we adapted to a delivery system and added platforms like Uber and DoorDash."
Helping them through the transition were emergency grants and low-interest loans from the federal and provincial governments, some of which are directly administered by PME MTL, a non-profit business-development organization established to assist the island's small and medium-sized businesses.
Konstas said he had never even heard of PME MTL until a customer told him about them and when he got in touch, he discovered there were many government programs available to help his business get through the downturn and build for the future. "They've been very helpful right from day one," said Konstas.
"We used some of the funds to catch up on our suppliers and our rents, the part that wasn't covered from the federal side, and we used some of it for our new virtual concepts," he said, referring to a virtual kitchen model which the restaurant has since adopted.
The virtual kitchen lets them create completely different menu items from the casual American Italian dishes that Del Friscos is known for and market them under different restaurant brand names. Under the Prasinó Soup & Salad banner, they sell healthy Greek options and their Stallone's Sub Shop brand offers hearty sandwiches, yet the food from both is created in the same Del Friscos kitchen.
Downtown Montreal office, retail vacancies continue to rise
Some of downtown Montreal's key economic indicators are heading in the wrong direction.
Office and retail vacancies in the city's central core continued to climb in the fourth quarter of 2020, according to a quarterly report released Thursday by the Urban Development Institute of Quebec and the Montréal Centre-Ville merchants association. The report, whose first edition was published in October, aims to paint a socio-economic picture of the downtown area.
The survey also found office space available for sublet had increased during the fourth quarter, which may foreshadow even more vacancies when leases expire. On the residential front, condo sales fell as new listings soared — a sign that the downtown area may be losing some of its appeal to homeowners.
"It's impossible not to be preoccupied by the rapid increase in office vacancies," Jean-Marc Fournier, the former Quebec politician who now heads the UDI, said Thursday in an interview.
Still, with COVID-19 vaccinations set to accelerate in the coming months, "the economic picture is bound to improve," he said. "People will start returning downtown. It's much too early to say the office market is going to disappear."
Public health measures implemented since the start of the pandemic almost a year ago — such as caps on office capacity — have deprived downtown Montreal of more than 500,000 workers and students. A mere 4,163 university and CEGEP students attended in-person classes in the second quarter, the most recent period for which figures are available. Border closures and travel restrictions have also brought tourism to a standstill, hurting hotels and thousands of local businesses.
Seventy per cent of downtown workers carried out their professional activities at home more than three days a week during the fourth quarter, the report said, citing an online survey of 1,000 Montreal-area residents conducted last month.