Situation stabilized at Saint John oil refinery following explosion, fire
[ad_1]

Eight hours after an explosion and fire at the Irving Oil refinery in Saint John shook the city and sent several contractors to hospital with non-life threatening injuries, the situation has been stabilized, Emergency Measures Organization officials say.
But flare-ups are still possible, as part of the normal stabilization process, the organization posted on Twitter shortly after 7 p.m. AT.
« Crews are on site and monitoring, » it said.
Area residents are no longer being urged to remain in their homes. The New Brunswick Department of Environment and Department of Health are monitoring air quality around the east-side refinery and « have not identified any concerns to public health, » said EMO.
The Saint John Fire Department has begun releasing some of its crews and equipment from the site and all streets have reopened to traffic.
Irving Oil refinery explosion captured on video by Sierra Sisk. <a href= »https://t.co/Z2YtbxAfJz »>pic.twitter.com/Z2YtbxAfJz</a>

&mdash;@CaveRachel
A  malfunction in a diesel-treating unit is believed to be the source of the « bed-shaking » blast that sent flames shooting an estimated 30 metres high and saw a plume of black smoke cover most of the city's east side shortly after 10 a.m.
The unit, which removes sulphur from diesel, has been isolated and the rest of the refinery has been shut down « out of an abundance of caution, » said Irving Oil's chief refining and supply officer Kevin Scott.
The Irving Oil facility is the largest refinery in Canada. It employs about 1,400 people and is capable of producing more than 320,000 barrels per day.
Although it's Thanksgiving Monday, close to 3,000 people were working onsite due to a regularly scheduled maintenance project. About 100 were the normal operations crew, while the rest were tradespeople working on the turnaround project, officials said.
« The fact no one was hurt seriously or killed during this incident is something to be very thankful for, » said Saint John Mayor Don Darling.
'I thought I was dead for sure'
Jonathan Wright, an electronic technician from Florida who was working inside the refinery during the fiery explosion, said he thought he was going die.
« We got blasted to the ground. Everything blew up and I didn't know what to do, » he said. « You couldn`t see nothing but flame. »
Contractor Jonathan Wright, who escaped the refinery fire, said he heard a high pitch hiss for three or four seconds before the explosion. (CBC)
Wright knew he had to get out, but the heat from the fire kept him from the stairway down and he says there were no ladders.
« Basically I was swinging through scaffold poles and walking across pipes and everything to get out of there, it was terrible. I didn't want to get burned. »
He hurt his hand, elbow and foot, but considers himself lucky. « I thought I was dead for sure, like guaranteed dead. »
After the blast at the Saint John oil refinery Monday morning, police were warning residents to stay clear of the area. (Photo: Submitted)
Irving Oil is working with WorkSafeNB, the Department of Environment and EMO officials to « understand what happened » and determine next steps, said Scott.
It's too soon to say how long the shutdown will continue, but the company hopes to avoid any interruptions to service, he said.
« We're working through all of our contingency plans in terms of supply. Of course we have finished product in tankage at the refinery and then further out in the system in marine terminals and you know relationships with other suppliers as well that we will draw on to minimize the impact on any of our customers — in Canada or the U.S. »
The following streets are closed: Loch Lomond at Commerce, Grandview at Champlain, Grandview at Bayside, and Loch Lomond at Macdonald.

—@saintjohnpolice
Saint John police responded to the refinery at 10:16 a.m., and were asking people to avoid the area as curious onlookers lined the streets, hoping to catch a glimpse of what was going on.
Several streets were closed but no evacuations were ordered.
After the explosion was reported, the Saint John Regional Hospital went into « code orange, » meaning it was prepared for a possible influx of patients. 
« We can confirm we have now treated five people with injuries from the refinery explosion at Horizon's Saint John Regional Hospital and all five have been discharged., » New Brunswick's Horizon Health Network said on Twitter shortly after 3 p.m.
EMO was reporting four people were treated in hospital for « minor injuries. »
Irving Oil posted on Twitter around 2 p.m. that several contractors were being treated for non-life threatening injuries.
« We now understand that all employees and contractors working on site have been safely accounted for, » the tweet said.
« As this is an active situation, we will be sharing more information as it becomes available. »
No other updates have been posted.
Residents react to explosion
Shaun Watson, who lives on the east side of Saint John, says he felt shaken up by the explosion and fire. (CBC)
Darling said on Twitter early after reports of the explosion emerged: « This is obviously a live event … when we know more, you'll know more. Praying for the safety of all involved. »
Premier Brian Gallant tweeted he has reached out to the mayor.
Gallant said the New Brunswick Emergency Measures Organization was engaging with the city and Irving Oil officials to assess the situation.
« On behalf of all New Brunswickers, our thoughts are with the workers affected and with the community of Saint John, » Gallant said.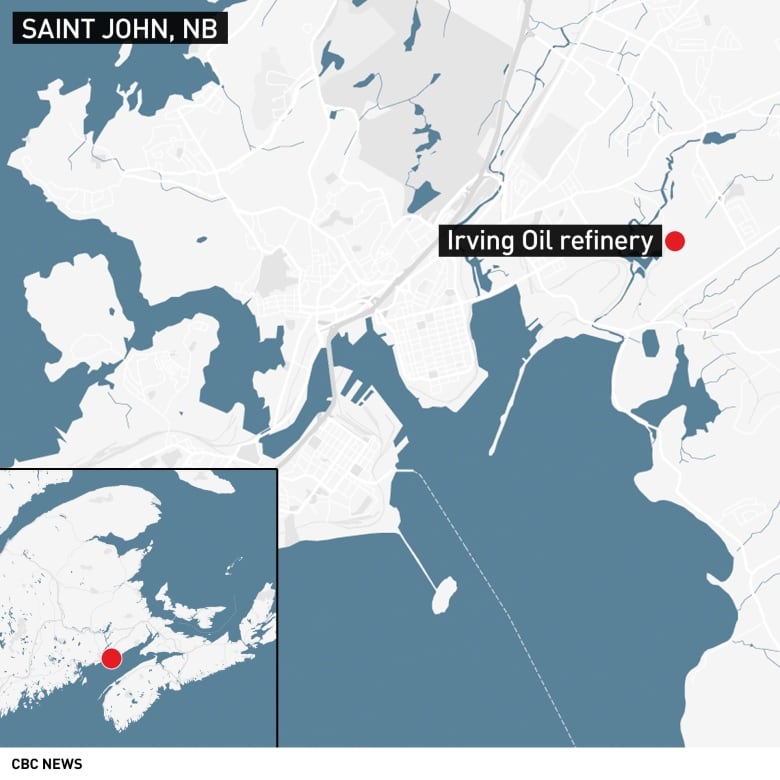 The oil refinery in Saint John. (CBC)
Bob McVicar, who lives in the area of the explosion, posted on Facebook that it felt like a « bed-shaking explosion. »
Area resident Shaun Watson was in his house when he heard a boom.
« The whole house shook, » he said.
Residents across the city also reported on social media that they felt the effects. 
Not the first explosion
Mark Melanson and Jocelyn Legassie were sitting at the Tim Hortons on Hickey Road, about three kilometres away from the refinery, when they heard a popping sound.
They looked outside the window and saw black smoke and flames exceeding the height of the stacks at the refinery.
Officials have said they believe a malfunction in the diesel-treating unit caused the fiery explosion. (Photo: CBC)
Melanson said he has seen explosions like this on YouTube at oil refineries around the world, but never seen anything like this in Saint John.
Legassie agreed, saying: « I've lived in Saint John for 30 years and this is the first time I've seen something like this happen here. »
Very serious fire currently underway at the Irving Oil Refinery. <a href= »https://t.co/te8X4Xl6Tw »>pic.twitter.com/te8X4Xl6Tw</a>

&mdash;@thewrightpage
There was another explosion at the oil refinery in 1998, when flames and a huge cloud of black smoke hung over the facility.
Rob Beebe felt Monday's explosion from his apartment on Martha Avenue, a few streets over from the refinery.
« We felt the entire building move as if it wobbled. »
When he walked outside, he noticed black smoke coming from the refinery, so he hopped into the car, drove down the corner and saw fire about 30 metres high.
[ad_2]

Source link
Nostalgia and much more with Starburst XXXtreme
Get a taste of adventure with Starburst XXXtreme based on the legendary NetEnt Game. The nostalgic themes are sure to capture fans of the classic version as they get treated to higher intensity, better visuals, and features. The most significant element of the game is its volatility. Patience will not be an essential virtue considering the insane gameplay, and there is a lot of win potential involved. It retains the original makeup of the previous game while adding a healthy dose of adrenaline. 
Starburst Visuals and Symbols
The game is definitely more conspicuous than before. The setting happens over a 5-reel, 3-row game grid with nine fixed win lines, which function if a succession from the left to the right reel is present. Only those players that that attain the highest win per bet line are paid. From a visual standpoint, the Starburst XXXtreme slots illustrates lightning effects behind the reels, which is not surprising as it is inherited from the original version. Available themes include Classic, Jewels, and Space. The game is also available in both desktop and mobile versions, which is advantageous for players considering the global pandemic. According to Techguide, American gamers are increasingly having more engaging gaming experiences to socialize to fill the gap of in-person interaction. Starburst XXXtreme allows them to fill the social void at a time when there is so much time to be had indoors. 
Starburst XXXTreme Features
Players get to alternate on three features which are Starburst Wilds, XXXtreme Spins, and Random Wilds. The first appears on reels 2,3, or 4. When these land, they expand to cover all positions while also calculating the wins. They are also locked for a respin. If a new one hits, it also becomes locked while awarding another respin. Starburst XXXtreme offers a choice between two scenarios for a higher stake. In one scenario with a ten times stake, the Starburst Wild is set on random on reels 2,3, or 4, and a multiplier starts the respin. The second scenario, which has a 95 times stake, starts with two guaranteed starburst wilds on reels 2,3, or 4. it also plays out using respin game sequence and features. The game also increases the potential with the Random Wilds feature to add Starburst Wilds to a vacant reel at the end of a spin. Every Starburst Wild gives a random multiplier with potential wins of x2, x3, x5, x10, x25, x50, x100, or even x150.
The new feature is sure to be a big hit with the gaming market as online gambling has shown significant growth during the lockdown. AdAge indicates the current casino customer base is an estimated one in five Americans, so Starburst XXXtreme's additional features will achieve considerable popularity.
What We Think About The Game
The gambling market has continued to diversify post-pandemic, so it is one of the most opportune times to release an online casino-based game. Thankfully Starburst XXXtreme features eye-catching visuals, including the jewels and space themes. These attract audience participation and make the gameplay inviting. The game also has a nostalgic edge. The previous NetEnt iteration featured similar visuals and gameplay, so the audience has some familiarity with it. The producers have revamped this version by tweaking the features to improve the volatility and engagement.
That is characterized by the potential win cap of 200,000 times the bet. Starburst XXXtreme does not just give betting alternatives for players that want to go big. The increase of multipliers also provides a great experience. If the respins in the previous version were great, knowing that multipliers can go hundreds of times overtakes the game to a new level.
Players should get excited about this offering. All of the features can be triggered within a single spin. Whether one plays the standard game or takes the XXXtreme spin route, it is possible to activate all of the features. Of course, the potential 200,000 times potential is a huge carrot. However, the bet size is probably going to be restricted and vary depending on the casino. It is also worth pointing out that a malfunction during the gameplay will void all of the payouts and progress. Overall, the game itself has been designed to provide a capped win of 200,000 times the original bet.
'We're back': Montreal festival promoters happy to return but looking to next year
In downtown Montreal, it's festival season.
In the city's entertainment district, a musical act was conducting a sound check on stage Friday evening — the second day of the French-language version of the renowned Just For Laughs comedy festival. Tickets for many of the festival's free outdoor shows — limited by COVID-19 regulations — were sold out.
Two blocks away, more than 100 people were watching an acoustic performance by the Isaac Neto Trio — part of the last weekend of the Festival International Nuits d'Afrique, a celebration of music from the African continent and the African diaspora.
With COVID-19 restrictions continuing to limit capacity, festival organizers say they're glad to be back but looking forward to next year when they hope border restrictions and capacity limits won't affect their plans.
Charles Décarie, Just For Laughs' CEO and president, said this is a "transition year."
"Even though we have major constraints from the public health group in Montreal, we've managed to design a festival that can navigate through those constraints," Décarie said.
The French-language Juste pour rire festival began on July 15 and is followed by the English-language festival until July 31.
When planning began in February and March, Décarie said, organizers came up with a variety of scenarios for different crowd sizes, ranging from no spectators to 50 per cent of usual capacity.
"You've got to build scenarios," he said. "You do have to plan a little bit more than usual because you have to have alternatives."
MELS new major movie studio to be built in Montreal
MONTREAL — MELS Studios will build a new film studio in Montreal, filling some of the gap in supply to meet the demand of Hollywood productions.
MELS president Martin Carrier said on Friday that MELS 4 studio construction will begin « as soon as possible », either in the fall or winter of next year. The studio could host productions as early as spring 2023.
The total investment for the project is $76 million, with the Quebec government contributing a $25 million loan. The project will create 110 jobs, according to the company.
The TVA Group subsidiary's project will enable it to stand out « even more » internationally, according to Quebecor president and CEO Pierre Karl Péladeau. In the past, MELS Studios has hosted several major productions, including chapters of the X-Men franchise. The next Transformers movie is shooting this summer in Montreal.
Péladeau insisted that local cultural productions would also benefit from the new facility, adding that the studio ensures foreign revenues and to showcase talent and maintain an industry of Quebec producers.
STUDIO SHORTAGE
The film industry is cramped in Montreal.
According to a report published last May by the Bureau du cinéma et de la télévision du Québec (BCTQ), there is a shortage of nearly 400,000 square feet of studio space.
With the addition of MELS 4, which will be 160,000 square feet, the company is filling part of the gap.
Carrier admitted that he has had to turn down contracts because of the lack of space, representing missed opportunities of « tens of millions of dollars, not only for MELS, but also for the Quebec economy. »
« Montreal's expertise is in high demand, » said Montreal Mayor Valérie Plante, who was present at the announcement.
She said she received great testimonials from « Netflix, Disney, HBO and company » during an economic mission to Los Angeles in 2019.
« What stands out is that they love Montreal because of its expertise, knowledge and beauty. We need more space, like MELS 4, » she said.
There is still not enough capacity in Quebec, acknowledged Minister of Finance, the Economy and Innovation Eric Girard.
« It is certain that the government is concerned about fairness and balance, so if other requests come in, we will study them with the same seriousness as we have studied this one, » he said.
Grandé Studios is the second-largest player in the industry. Last May, the company said it had expansion plans that should begin in 2022. Investissement Québec and Bell are minority shareholders in the company.
For its part, MELS will have 400,000 square feet of production space once MELS 4 is completed. The company employs 450 people in Quebec and offers a range of services including studio and equipment rentals, image and sound postproduction, visual effects and a virtual production platform.